Reviewed by Paige Pagan
Review Source: Teaching for Change
Book Author: Kristen Bell, Benjamin Hart
The World Needs More Purple People is designed to teach early elementary children that they should be inquisitive, humorous, kind, outspoken, diligent, and authentic, which are all essential qualities indeed and according to the protagonist, Penny, all needed to become a purple person. The moral of the story, which is an activist one — becoming purple, the magical color "made when red and blue work together" (p. 3) — doesn't stop at the reader, there needs to be a collective move towards a world of purple people, a world where we "share and forget what we thought made us different" (p. 13). In Bell and Hart's attempt at unity, they actually fall into tropes of divisiveness through colorblind racism and blindspot bias. Children are left with a contradictory sense of social identity.
Making everyone purple erases the beauty of human difference and most simply, of color. While the book features children of various ethnic and racial backgrounds, the goal of the visibly Caucasian protagonist is to neutralize all children. Penny's final step toward completing the goal of becoming a purple person is initially, "Paint yourself purple," where she is illustrated covered from head to toe in purple paint with only her mouth and hand showing her untouched fair skin (p. 26).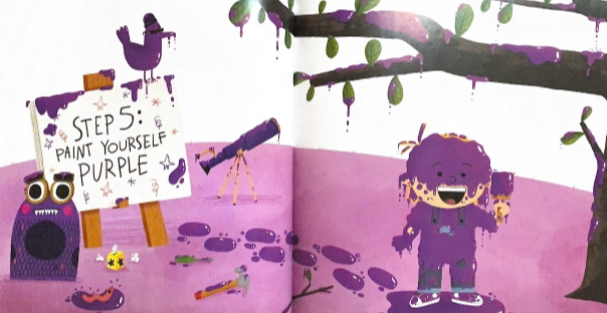 In the eyes of the child reader and viewer, this illustration is a fun one, but to an adult observer, the illustration can be likened to past depictions of blackface minstrelsy. The illustration after this one features Penny laughing and shouting, "Just kidding!" (p. 27) in recognition of the folly of this assertion, and she revises her last step to "Just be (the real) you" (p. 29). Penny comes to a close by saying, "Purple people come in every color you can dream up… and every size you can think up. The only way to be purple is to just be YOU. Because you're the only YOU we've got!" (p. 30). With accompanying illustrations that span diverse groups of people across race, age, ability, sexuality, and economic class, Bell and Hart make a call for all children to be purple, yet to also be themselves, creating  a conflated identity for child readers.
It could be argued that this book is less about race and more about overcoming ideological and political differences by searching for human solidarity. However, in a book that's predicated on color, how could race not be a consideration? The naturalization of racial behaviors that's being called for in this book fosters colorblind racism. Bell, Hart, and Wiseman, all white creators, and for the two authors, public figures, exercise blindspot bias. Their experiences do not account for all child experiences. We inhabit a world where some children aren't accepted for the color of their skin. How could those children complete steps such as "Use your voice" (p. 15) and "Just be (the real) you" (p. 29) when being authentically themselves poses a threat to their own survival and as a result are silenced? Until children of all colors are truly accepted in this society, the world can't be purple, a truth unaccounted for in this book. I do not recommend this book for children, and if it is taught, I encourage adults to initiate a conversation with children on how colorblindness is a form of upholding colorism and remind children to maintain color positivity. Some books that I recommend on color positivity are Our Skin: A First Conversation About Race by Megan Madison, Jessica Ralli, and Isabel Roxas, and Sulwe by Lupita Nyong'o.
Related Resources
The Elephant in the Room: Picturebooks, Philosophy For Children and Racism by Darren Chetty, Institute of Education, University of London, UK. Recommended reading on color blindness in picture books. 
Paige Pagan is a Social Justice Books Program Specialist at Teaching for Change.
---

The World Needs More Purple People
by
Kristen Bell
,
Benjamin Hart
Published by
Random House Children's Books
on 2020-06
Genres:
Racial Identity
Pages:
40
Reading Level:
Grade K
ISBN:
9780593121962
Review Source:
Teaching for Change
Publisher's Synopsis: #1 New York Times bestseller!
Actress, producer, and parent Kristen Bell (The Good Place, Veronica Mars, Frozen) and creative director and parent Benjamin Hart have a new challenge for you and your kids: become a purple person by embracing what makes YOU special while finding common ground with those around you.

What is a purple person? Great question. I mean, really great! Because purple people always ask really great questions. They bring their family, friends, and communities together, and they speak up for what's right. They are kind and hardworking, and they love to laugh (especially at Grandpa's funny noises)! A purple person is an everyday superhero! How do you become one? That's the fun part! Penny Purple will lead you through the steps. Get ready to be silly, exercise your curiosity, use your voice, and be inspired.

Looking to reach beyond the political divide of red and blue, Kristen Bell and Benjamin Hart have created a hilarious and joyous read-aloud that offers a wonderful message about embracing the things that bring us together as humans. This book will inspire a whole generation to paint the world purple!