Reviewed by Makai Kellogg
Review Source: Teaching for Change
Book Author: Megan Madison, Jessica Ralli, Isabel Roxas
Our Skin: A First Conversation About Race is the book we've been waiting for! The team (Megan Madison, Jessica Ralli, and Isabel Roxas) did an incredible thing: they explained race and racism to young children. Not only did they do it in a few pages of a board book, but they also provided guidance to the adults who will read it to children. As soon as you open the book, the reader is greeted with colorful representations of the authors and illustrator, as well as a note on the purpose and function of the book. 
Laleña Garcia, author of What We Believe: A Black Lives Matter Activity Book, calls the struggle adults go through when trying to explain big ideas about the world to young people (that they often haven't unpacked themselves) "mental gymnastics." Madison, Ralli, and Roxas guide young readers through these gymnastics simply and clearly in both words and pictures. 
The last few pages provide developmental insight by using direct language to explain the "why and how" of having conversations about race, race-related observations, family diversity, identity terms, stereotypes, as well as prejudice, race, racism, empowerment, and activism. 
Babies, toddlers, preschoolers, and elementary-aged children can use this book to begin or continue conversations about race. My preschool students (ages 3 and 4) engaged with the book over a few days. The first section includes interactive questions about skin color, affirming language (my favorite line is "Everybody has just the right amount [of melanin] for them"), and explains why you can't use skin color to make judgments or assumptions.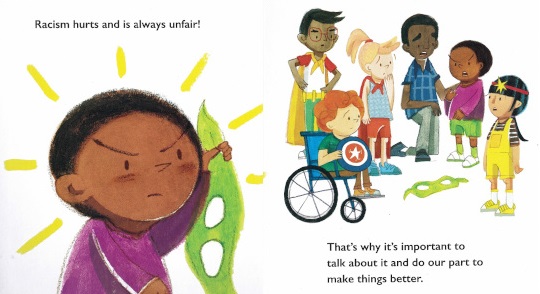 While observing our own skin, reflecting on our family's skin color and the characters in the book, my students shared:
R: "My skin is brown."
N: "My family is the same, some families could be a pattern."
R: "My family is a pattern."
D: "My daddy's brown, I'm peachy, my brother is a little mixed with peach and my mom is white."
E: "I see brown, lighter brown, and white." 
SY: "I have hundreds of melanin!"
N: "My skin heals fastly."
The next day we read and discussed the pages about what racism is and what it can look like in action. 
S: "I don't like the part where the people make the white people say they're prettier and nicer. I would say, 'That's not fair!'"
L: "That's mean because they don't like Black people. Remember, like the boy who grew up to help make things fair." (Referring to Dr. Martin Luther King Jr.) 
R: "Look! She's happy and she's sad because she needs to be the dragon."
O: "That's not fair! Like, I have blonde hair but I'm not a princess; I'm a superhero."
S: "I don't like the bad guy part because she's not being kind."
O: "They don't have to be the bad guy if you don't want to."
R: "The teacher told her to be quiet but they can be loud. Brown girls have to be quiet but they can be loud because they're white. That's an unfair rule." 
Z: "You have to tell the other two the same thing."
I was going to pause and finish later, but my class was captivated and encouraged me to read to the end. We revisited the whole book the next day after the children had time to process and think deeply. My students were very taken with Roxas' illustrations, which are vibrant, child-friendly, and tell a story on their own. The children referenced specific parts of the book by describing what they remembered from the illustrations, especially the facial expressions and body language of the characters. 
Our Skin: A First Conversation About Race is an essential Black Lives Matter at School book and addition to anti-racist homes. I received my copy the day of the online book launch and gave it to my toddler, Justice, who read it to herself.
More of the content will be accessible as she grows and processes concepts and builds vocabulary.  She will tell her own story using the striking visuals, ask and answer questions, and begin the work of holding herself and others accountable. I look forward to the second and third (and more!) conversations with my child sparked by this book that inspires questioning injustice and taking action.
Makai Kellogg is an anti-bias early childhood educator and Equity and Diversity Coordinator at School for Friends in Washington, D.C. She creates age-appropriate curriculum on social justice for her students to explore equity issues such as race, homelessness, gender stereotypes, etc. Makai leads the Parents of Multiracial Children group, Equity and Diversity Parent Book Club, as well as other programming throughout the year that allow parents to address their biases to be proactive as their children learn about the world around them. Makai facilitates training and opportunities for her colleagues to engage in identity work and discussions on equity and anti-bias education in the classroom. Through her work with young children and their families, she is creating an inclusive community of critical thinkers and change makers. Makai works closely with Teaching for Change and its initiative, the D.C. Area Educators for Social Justice as an advisory board member. She is also part of the leadership team for the Anti-Bias Early Childhood Educator Working Group. Read more on Makai's Early Childhood Equity Endeavors.
---

Our Skin: A First Conversation About Race
by
Megan Madison
,
Jessica Ralli
,
Isabel Roxas
Published by
Penguin
on March 16, 2021
Genres:
Racism
Pages:
36
Reading Level:
Early Childhood
ISBN:
9780593383421
Review Source:
Teaching for Change
Also by this author:
Yes! No!: A First Conversation About Consent
Publisher's Synopsis: Based on the research that race, gender, consent, and body positivity should be discussed with toddlers on up, this read-aloud board book series offers adults the opportunity to begin important conversations with young children in an informed, safe, and supported way.

Developed by experts in the fields of early childhood and activism against injustice, this topic-driven board book offers clear, concrete language and beautiful imagery that young children can grasp and adults can leverage for further discussion.

While young children are avid observers and questioners of their world, adults often shut down or postpone conversations on complicated topics because it's hard to know where to begin. Research shows that talking about issues like race and gender from the age of two not only helps children understand what they see, but also increases self-awareness, self-esteem, and allows them to recognize and confront things that are unfair, like discrimination and prejudice.

This first book in the series begins the conversation on race, with a supportive approach that considers both the child and the adult. Stunning art accompanies the simple and interactive text, and the backmatter offers additional resources and ideas for extending this discussion.