Reviewed by Vanessa Oyugi, Ph.D.
Review Source: Africa Access
Book Author: Lupita Nyong'o
Sulwe, Lupita Nyong'o's first picture book, subtly celebrates her Kenyan heritage. The main character's name means star in Luo (Lupita's mother tongue) and there is an illustration of young girls playing a classic Kenyan jumping game called kati. Sulwe, the story of a young black girl dealing with issues of colorism and self-esteem, is based on Lupita's Ngong'o's own life growing up as a dark-skinned girl. Being darker-skinned than many members of her family, Nyong'o learned at a young age that lighter skin is privileged. For example, her lighter-skinned sister received compliments for her beauty while she was often teased about her darker complexion. Nyong'o's exposure to colorism throughout her life led her to pen a narrative that honors the pain that dark-skinned black girls endure in a society steeped in eurocentric beauty standards. Continue reading.
---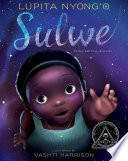 Sulwe
by
Lupita Nyong'o
Published by
Simon and Schuster
on October 15, 2019
Genres:
Africa
Pages:
48
Reading Level:
Grade K
,
Grades 1-2
ISBN:
9781534425361
Review Source:
Africa Access
Publisher's Synopsis: A New York Times bestseller! Recipient of a Coretta Scott King Illustrator Honor Award Recipient of an NAACP Image Award for Outstanding Children's Literary Work

From Academy Award–winning actress Lupita Nyong'o comes a powerful, moving picture book about colorism, self-esteem, and learning that true beauty comes from within.

Sulwe has skin the color of midnight. She is darker than everyone in her family. She is darker than anyone in her school. Sulwe just wants to be beautiful and bright, like her mother and sister. Then a magical journey in the night sky opens her eyes and changes everything.

In this stunning debut picture book, actress Lupita Nyong'o creates a whimsical and heartwarming story to inspire children to see their own unique beauty.