Reviewed by Elsa Gall
Review Source: Reading While White
Book Author: Monica Brown
Marisol McDonald loves the letter m, but there is one "m word" she does not like: ¡MONSTRUO! She knows that monsters are not real, but she hears them beneath her bed and her vivid imagination gets the best of her.
After begging family member after family member to stay with her before she falls asleep, she tempers her fears by crafting her own monster out of an assemblage of soccer socks, knitting yarn, a purple polka-dot skirt, and a green-striped shirt. She names it Melody and fits it in a box beneath her bed. ("I know there's a monster under my bed, but it's my very own monster.")
But the bumps in the night don't disappear! After Marisol's family tiptoes downstairs together, they discover the source of the noise. SPOILER ALERT: the family's dog, Kitty, is bouncing a ball against the wall. ("It turns out the monster…does have eyes and fur and teeth, but he isn't scary after all.") Continue reading.
---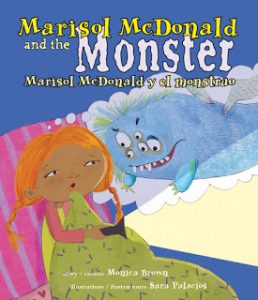 Marisol McDonald and the Monster
by
Monica Brown
Illustrator:
Sara Palacios
Published by
Lee & Low Books
on July 2016
Genres:
Family
,
Latinx
,
OwnVoices
,
Science Fiction/Fantasy
Pages:
32
Reading Level:
Grade K
Review Source:
Reading While White
Buy at Powell's Books
Also by this author:
Waiting for the BiblioBurro
,
Side by Side/Lado a lado
SYNOPSIS: Marisol McDonald loves words that begin with the letter m--except the word monster. Monsters are scary, with big eyes, wild fur, pointy claws, and sharp teeth. One night, when Marisol hears loud bumps under her bed, she is immediately convinced that a monster is making the noise. Checking under the bed does not reveal a monster, but night after night, the bumps continue. When the bumps become especially loud one night, Marisol bravely leads the charge downstairs to find the cause. Turns out the monster making noise under Marisol's bed does have eyes and fur and teeth, but it isn't scary at all. It's her dog, Kitty, playing ball against the kitchen wall.

Fans of the award winning Marisol McDonald Doesn't Match and Marisol McDonald and the Clash Bash will love this new adventure featuring Marisol McDonald, the multiracial heroine who celebrates individuality. Peruvian-Scottish-American Marisol learns to face her fears in this empowering story of harnessing the imagination and conquering nighttime monsters.