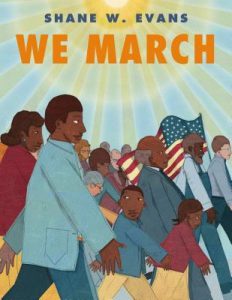 Welcome to Freedom Reads: Anti-Bias Book Talk from Teaching for Change. In this video series, we introduce children's books using an anti-bias, anti-racist lens as a strategy to talk about issues around race and the world with children. (View other episodes on the series home page and our YouTube playlist.)
The book featured in the video below is We March (2012), written and illustrated by Shane W. Evans for children in lower elementary and early childhood. In We March, readers follow a Black family with young children as they wake up and prepare with members of their community — and around the nation — for the 1963 March on Washington for Jobs and Freedom.
Find out why we recommend the book in this episode hosted by Allyson Criner Brown, associate director at Teaching for Change. Brown also points out key themes and words to highlight as parents and teachers read the book aloud.
---
Five Key Takeaways From We March:
Collective action of everyday people
Role of Black churches
Protest signs and themes
Singing and music as protest
Marching across racial lines
Learn More
Guide to Selecting Anti-Bias Children's Books
Civil Rights Teaching: Mythbuster Quiz and More on the 1963 March on Washington for Jobs and Freedom
Book Lists
Civil Rights Teaching: Children's and Young Adult Titles
Civil Rights Teaching: March on Washington
Early Childhood: Activism & Organizing
Note: Book titles on SocialJusticeBooks.org are linked to Powells.com (an independent, unionized bookstore) and/or Bookshop (indie bookstore platform). A small percentage from book sales through these links goes to Teaching for Change.