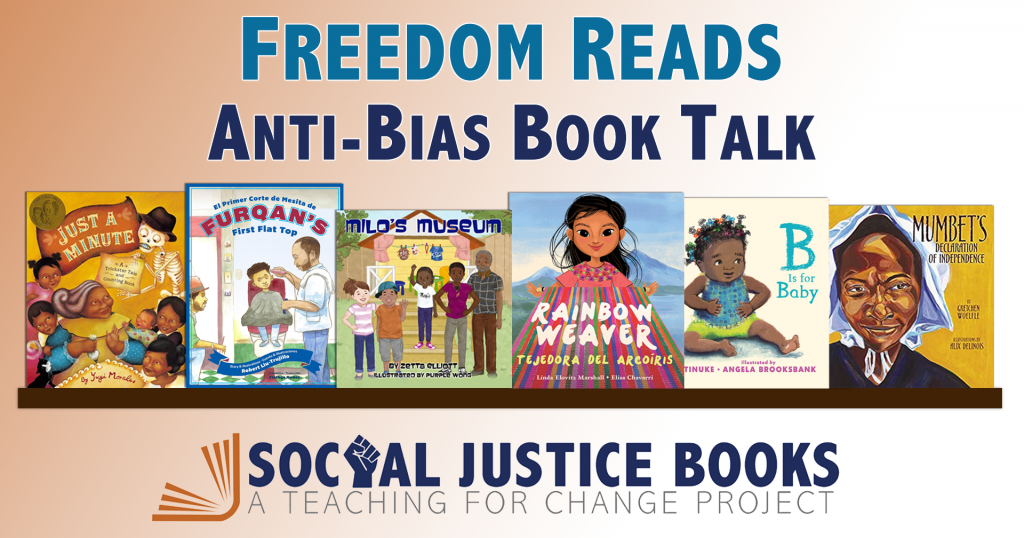 In response to an overwhelming number of requests for recommendations of anti-bias children's books, Teaching for Change launched the Freedom Reads: Anti-Bias Book Talk series. Beyond just sharing booklists, we want to share how we select high-quality, anti-bias books so that parents and teachers can do the same.
Teaching for Change associate director Allyson Criner Brown produced the series for parents, teachers, and librarians. She explained,
Freedom Reads: Anti-Bias Book Talk is part anti-bias training, part book review. Each short segment explores anti-bias books for home and the classroom with the goal to strengthen parents' and teachers' anti-bias, anti-racism lens and their ability to critically analyze children's media.
Here is our video introduction to the series.

Follow these links to view the episodes of the series and find related resources:
The series was inspired by our Roving Readers program (parents read aloud in classrooms), anti-bias education resources and training, and reviews from our Social Justice Books website.
Designed with parents in mind, episodes run under ten minutes and each one walks viewers through a synopsis of the book, relevant resources, and four to five key points from an anti-bias, critical literacy lens. Freedom Reads is appropriate for parents, caregivers, and educators who may be early in their anti-bias, anti-racist journey (i.e. those wondering why Criner Brown shares her pronouns in her introduction) and those who are already avid learners.
Freedom Reads honors the rich tradition of reviewing multicultural children's books that began with the Council on Interracial Books for Children, which provided a social justice lens to reviews of children's literature, and has prominent figures including Dr. Rudine Sims Bishop.
We would love to take viewers on an extended journey through some of the best anti-bias and anti-racist books out there. Check out the series to-date and share your feedback and/or ideas for funding.
Learn more
Guide for Selecting Anti-Bias Children's Books
Read book reviews from members of the See What We See (SWWS) coalition, such as Edith Campbell's Cotton Quilts, Zetta Elliott, Reading While White, DeColores: The Raza Experience in Books for Children, Latinxs in KidLit, Disability in KidLit, Africa Access, American Indians in Children's Literature, Rethinking Schools, and Teaching for Change. Many of their reviews can be found on this site.
Note: Book titles on SocialJusticeBooks.org are linked to Powells.com (an independent, unionized bookstore) and/or Bookshop (an indie bookstore platform). A small percentage from book sales through these links goes to Teaching for Change.