Reviewed by Clarence Lusane
Review Source: Zinn Education Project
Book Author: Marfe Ferguson Delano
By now, we know that the history featured in textbooks and children's literature is often riddled with myths, distortions, and outright fabrications. Many children's history books reinforce rather than debunk incorrect information and stereotyping ideologies. Master George's People: George Washington, His Slaves, and His Revolutionary Transformation by Marfé Ferguson Delano (National Geographic Children's Books, 2013), is a sad example of this tendency. The book is targeted for young people, ostensibly to teach them about the first president and the fact that he held people in slavery. To appeal to young people, the book discusses the role of children on the Washington plantation at Mount Vernon and gives profiles of a number of individuals who were enslaved to George and Martha Washington.
Although it is a worthwhile effort to teach young people about slavery and the involvement of the first president in that institution, Delano compromises that goal in a number of critical ways. To begin with, the title implies a certain legitimacy to Washington's "ownership" of people. Legally, morally, and politically, people who were enslaved by and to Washington were property without any rights, equal opportunity, or ability to live free. They were not Washington's "people." They were his property. Continue reading.
---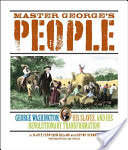 Master George's People
by
Marfe Ferguson Delano
Published by
National Geographic Books
on 2013
Genres:
African American
,
Biography and Autobiography
,
Democracy and Citizenship
,
Racism
,
Slavery
Pages:
61
Reading Level:
High School
ISBN:
9781426307591
Review Source:
Zinn Education Project
Publisher's Synopsis: As the first President of the United States of America and the Commander in Chief who led a rebel army to victory in the Revolutionary War, George Washington was a legendary leader of men. He had high expectations of his soldiers, employees, and associates. At his Virginia plantation, Mount Vernon, his expectations of his workers were no different: "I expect such labor as they ought to render," he wrote.

Except there was a big difference. The workers who kept Mount Vernon operating were enslaved. And although Washington called them "my people," by law they were his property. The Founders birthed a document celebrating "Life, Liberty, and the Pursuit of Happiness" as unalienable rights at the same time people were being bought and sold. But the people of Mount Vernon were so much more, and they each have compelling stories to tell.

In the pages of Master George's People, Marfé Ferguson Delano gives us fascinating portraits of cooks, overseers, valets, farm hands, and more—essential people nearly lost in the shadows of the past—interwoven with an extraordinary examination of the conscience of the Father of Our Country.