Reviewed by Debbie Reese
Review Source: America Indians in Children's Literature
Book Author: Richard Van Camp
Several weeks ago I wrote about Richard Van Camp's novel, The Lesser Blessed, which I recommend for YA readers. Today I want to call your attention to his picture book, What's the Most Beautiful Thing You Know About Horses? It joins Jingle Dancer and The Good Luck Cat as my favorite picture books by and about American Indians.
Published in 1998 by Children's Book Press, it is beautiful, funny, and engaging. Van Camp's style of writing, paired with George Littlechild's art, make for an irresistible read. Continue reading.
---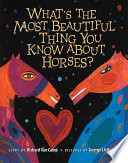 What's the Most Beautiful Thing You Know about Horses?
by
Richard Van Camp
on 1998
Genres:
African American
,
Animals
Pages:
32
Reading Level:
Grades 3-5
ISBN:
9780892391851
Review Source:
American Indians in Children's Literature
Also by this author:
The Blue Raven
,
We Sang You Home
,
Kiss by Kiss / Ocêtôwina
Publisher's Synopsis: On January's coldest day of the year in a small community in the Northwest Territories, a stranger to horses searches among family and friends for answers to an important question.