Reviewed by Debbie Reese
Source: American Indians in Children's Literature
Book Author: Richard Van Camp
Note: to purchase this title, please contact the author.
New this year (2015) is Richard Van Camp's graphic novel, The Blue Raven. Illustrated by Steven Keewatin Sanderson, the story is about a stolen bicycle and healing.
Sanderson's illustrations are terrific! From anger over his bike being stolen, to the tears Benji sheds in the flashback parts of the story, to the community scenes at the drum dance, they are a perfect match for Van Camp's story. Keep an eye out for his work!
The bike, named Blue Raven, belongs to a kid named Benji. He comes out of the library (how cool is that?) and his bike is gone (not cool!). Trevor, the older brother of a kid in his class, sees Benji and offers to help him find the bike.
The Blue Raven, published in 2015 by Pearson, is part of its Well Aware series and sold as a package. However, it can be purchased directly from Richard Van Camp. I highly recommend it. Continue reading.
---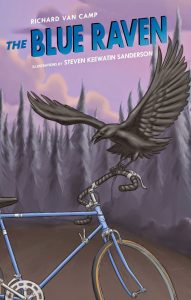 The Blue Raven
by
Richard Van Camp
Illustrator:
Steven Keewatin Sanderson
Published by
Pearson
on 2015
Genres:
American Indians, First Nations, Metis, Inuit
,
Friendship
,
Graphic Novels and Comics
Review Source:
American Indians in Children's Literature
Also by this author:
We Sang You Home
,
Kiss by Kiss / Ocêtôwina
,
What's the Most Beautiful Thing You Know about Horses?