Reviewed by Debbie Reese
Review Source: American Indians in Children's Literature
Book Author: Traci Sorell
I love to see Indigenous languages on book covers! Check out the cover of Traci Sorell's We Are Grateful/Otsaliheliga. What you see on that cover is the words "We Are Grateful" in English, and then in Cherokee, and also in the Cherokee syllabary. The illustrations in We Are Grateful are by Frané Lessac.
What makes We Are Grateful exquisite is that Sorell's book touches on the Trail of Tears, naming of children, and the importance of listening to elders at the Cherokee National Holiday. These parts of the book are depicted in a matter of fact way. They aren't emotionally weighted–and they don't need to be. They are parts of the lives of Cherokee citizens. I think it is Sorell's identity that makes it possible for these parts of the story to work as beautifully as they do! Continue reading.
---
Additional Reviews:
by Indigo's Bookshelf
We have read this book many times since it was published in October 2018. It is a feast for the heart, eyes, voice and mind. Since we think it is a major work, that has already been awarded (and should receive further awards) and many of us have read and discussed it, we decided to do a group review. Continue reading.
by Rethinking Schools
My preschool-age children collect treasures from the ground that end up on our table. Bits of moss, Douglas fir cones, drying acorns, prickly sweet gum seed balls, the curling top of a sword fern frond, spruce cones. A rose hip stuffed with coated seeds. Male and female alder catkins. Deodar cedar cones. Continue reading.
---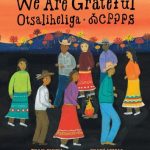 We Are Grateful: Otsaliheliga
by
Traci Sorell
Illustrator:
Frané Lessac
Published by
Charlesbridge
Pages:
36
Reading Level:
Grades 1-2
ISBN:
9781580897723
Review Source:
American Indians in Children's Literature
Also by this author:
Indian No More
,
At the Mountain's Base
,
Classified