Reviewed by Ashleigh, age 13
Review Source: Indigo's Bookshelf: Voices of Native Youth
Book Author: Charlene Willing McManis, Traci Sorell
Indian No More, by Charlene Willing McManis with Traci Sorell, is one of the best books I've ever read. Thank you to Tu Books and Stacy L. Whitman for sending @ofglades the uncorrected proof to review. At first, I was sorry it wasn't an audio book, because it is sometimes easier for me to listen to books. But just after reading the first chapter, "The Walking Dead"–SNAP!, the voice of ten year-old Regina Petit was in my head. It stayed there till the last page, and it's still talking to me now.
Regina says, "My family was Umpqua. I was Umpqua. That's just how it was." But it gets messy fast. She has always lived on the Grand Ronde reservation, thirty miles from Salem, Oregon, but Congress passes a bill that says that the Umpqua (and other tribes in Oregon) have been terminated. Regina's grandmother Chich tells her, "The President has just signed the bill from Congress saying that we're no longer Indian."
But before that we are treated to an exact, beautiful description of the res and the people there. You write about things this way if you really love them, even if they aren't perfect.
 "Our house, with chipped white paint and warped boards, was surrounded by acres of tall grasses, plots of fragrant mock orange, and a forest filled with chirping squirrel and robins."
She says, "Getting a toilet inside was one of the happiest days of my life." But then she tells the tales her Daddy shared: "Old Sasquatch won't bother you. First, he's shy. Second, he's over six feet tall and smells like a wet dog.  And third, well, if he does bother you, you must've been misbehaving."
Not everyone who lives on a reservation is alcoholic and unhappy! That's my experience, but not all young people know that. Ms. Charlene draws such a warm, pretty picture that you feel the loss of this place and fellowship like a stab to your heart. When Chich tells Regina what's happened, Ms. Charlene describes Chich's "scarred breakfast table."
Regina answers Chich saying they're no longer Indians by saying, "But….what if I still want to be one?" In spring 1957, her daddy signs them up for the Indian Relocation Program, they will go to Los Angeles:
"The summer morning we left, a misty fog covered the train station so thick that the morning sun struggled to peek through. Chich spoke in Chinuk Wawa to Aunt Rosie…When adults didn't want us kids to know what was going on, they usually spoke it."
"The train's wheels pounded the tracks, like beating a log drum. Windows shook like dance rattles. I looked outside. Darkness looked back."
Daddy is optimistic, though Chich tells Regina and her sister Peewee about an earlier time in 1856 when the Umpqua were relocated to the reservation where the girls grew up. Continue reading.
---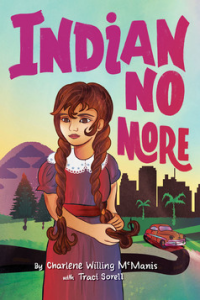 Indian No More
by
Charlene Willing McManis
,
Traci Sorell
Published by
Lee & Low Books
on September 24, 2019
Genres:
American Indians First Nations Metis Inuit
Reading Level:
Grades 3-5
,
Grades 6-8
ISBN:
9781620148396
Review Source:
Indigo's Bookshelf: Voices of Native Youth
Also by this author:
We Are Grateful: Otsaliheliga
,
At the Mountain's Base
,
Classified
Publisher's Synopsis: Regina Petit's family has always been Umpqua, and living on the Grand Ronde reservation is all ten-year-old Regina has ever known. Her biggest worry is that Sasquatch may actually exist out in the forest. But when the federal government signs a bill into law that says Regina's tribe no longer exists, Regina becomes "Indian no more" overnight--even though she was given a number by the Bureau of Indian Affairs that counted her as Indian, even though she lives with her tribe and practices tribal customs, and even though her ancestors were Indian for countless generations.

With no good jobs available in Oregon, Regina's father signs the family up for the Indian Relocation program and moves them to Los Angeles. Regina finds a whole new world in her neighborhood on 58th Place. She's never met kids of other races, and they've never met a real Indian. For the first time in her life, Regina comes face to face with the viciousness of racism, personally and toward her new friends.

Meanwhile, her father believes that if he works hard, their family will be treated just like white Americans. But it's not that easy. It's 1957 during the Civil Rights Era. The family struggles without their tribal community and land. At least Regina has her grandmother, Chich, and her stories. At least they are all together.

In this moving middle-grade novel drawing upon Umpqua author Charlene Willing McManis's own tribal history, Regina must find out: Who is Regina Petit? Is she Indian? Is she American? And will she and her family ever be okay?