Reviewed by Esther Mukewa Lisanza
Review Source: Africa Access
Book Author: Eric Walters
Walking Home is about Muchoki, a thirteen-year-old Kenyan boy and his younger sister, Jata. Together they make a long journey in search of their mother's family. They have just lost their mother to malaria in an overcrowded refugee camp and not long ago they lost their father and all other paternal relatives to political violence.
Lacking money, they walk a long distance across Kenya, from the western part of the country to the east. Although they are often afraid of strangers they meet on their way, these strangers turn out to be very kind and supportive. Some give them money, overnight shelter, food, security etc. Finally, they coincidentally meet their uncle who introduces them to their grandparents and other relatives. It is a bittersweet reunion because the grandparents learn that their daughter is no longer alive. Grandfather welcomes them to his home which he refers to as their home. Continue reading.
---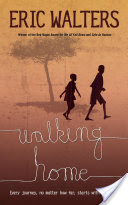 Walking Home
by
Eric Walters
Published by
Penguin Group
on October 28th 2014
Genres:
Africa
,
Family
,
Homelessness
Pages:
208
Reading Level:
Grades 6-8
ISBN:
9780385681582
Review Source:
Africa Access
Buy at Powell's Books
Also by this author:
Hope Springs
Publisher's synopsis: Set in Kenya, a powerful story about a brother and sister's brave journey to find a place to call home. 13-year-old Muchoki and his younger sister, Jata, can barely recognize what's become of their lives. Only weeks ago they lived in a bustling Kenyan village, going to school, playing soccer with friends, and helping at their parents' store. But sudden political violence has killed their father and destroyed their home. Now, Muchoki, Jata, and their ailing mother live in a tent in an overcrowded refugee camp. By day, they try to fend off hunger and boredom. By night, their fears about the future are harder to keep at bay. Driven by both hope and desperation, Muchoki and Jata set off on what seems like an impossible journey: to walk hundreds of kilometers to find their last remaining family.