Reviewed by Jane Irungu
Review Source: Africa Access
Book Author: Eric Walters
Eric Walters paraphrases a segment of his own philanthropic life through Hope Springs, a brightly illustrated picture book set in Mbooni, a semi-arid district in Kenya.
Through the eyes of a child, the story line describes the challenges of living in rural Kenya where access to basic everyday necessities like water are at times very challenging. If it rains, water is plentiful. When the rains fail, everyone has to rely on a small spring for all their needs. It can take hours just to fill a bucket as the water comes in "little trickles" "drop by drop."
This is a heart-warming story of kindness, generosity, resilience and brotherhood in the context of scarce resources, poverty and the other everyday struggles of people in Mbooni. Continue reading.
---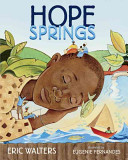 Hope Springs
by
Eric Walters
Illustrator:
Eugenie Fernandes
Published by
Tundra Books
on September 9th 2014
Genres:
Economic Class
,
Family
,
Nature
,
Weather
Pages:
32
Reading Level:
Grades 1-2
ISBN:
9781770495302
Review Source:
Africa Access
Buy at Powell's Books
Also by this author:
Walking Home
SYNOPSIS: A drought has settled in the area around the orphanage where Boniface lives. There are long line-ups at the tiny spring where all the local people get their water, and suddenly the orphans are pushed to the back of the line, unwelcome. Boniface's houseparent, Henry, tells him that the people were mean out of fear--they feared there would not be enough water for their families. When the building of the orphanage's well is completed, Boniface has an idea to help the villagers. A lovely story of kindness and heart, this story shows that, through compassion and understanding, true generosity can spring from unexpected places.