Reviewed by Debbie Reese
Review Source: American Indians in Children's Literature
Book Author: Lisa Charleyboy
Charyleyboy and Leatherdale's new book, Urban Tribes: Native Americans in the City, also published by Annick Press, was released in August of this year. Isn't that cover exquisite? Inside you'll find art, and stories, and poems written by Native people. There's joy, for example, in the photographs of actor Tatanka Means. You may have seen him in Tiger Eyes, the film adaptation of Judy Blume's story. Photographs of him in Urban Tribes include one of his dad, Russell Means, braiding his hair, and several of him holding a mic. Continue reading.
---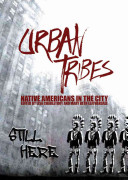 Urban Tribes
by
Lisa Charleyboy
Published by
ANNICK PRESS
on September 9th 2015
Genres:
American Indians, First Nations, Metis, Inuit
Pages:
136
ISBN:
9781554517503
Review Source:
American Indians in Children's Literature
Buy at Powell's Books
Also by this author:
Notyourprincess: Voices of Native American Women
SYNOPSIS: Young, urban Natives powerfully show how their culture and values can survive—and enrich—city life.
Much of the popular discourse on Native Americans and Aboriginals focuses on reservation life. But the majority of Natives in North America live off the rez. How do they stay rooted to their culture? How do they connect with their community?
Urban Tribes offers unique insight into this growing and often misperceived group. Emotionally potent and visually arresting, the anthology profiles young urban Natives from across North America, exploring how they connect with Native culture and values in their contemporary lives. Their stories are as diverse as they are. From a young Dene woman pursuing a MBA at Stanford to a Pima photographer in Phoenix to a Mohawk actress in New York, these urban Natives share their unique perspectives to bridge the divide between their past and their future, their cultural home, and their adopted cities.
Unflinchingly honest and deeply moving, contributors explore a wide-range of topics. From the trials and tribulations of dating in the city to the alienating experience of leaving a remote reserve to attend high school in the city, from the mainstream success of Electric Pow wow music to the humiliation of dealing with racist school mascots, personal perspectives illuminate larger political issues. An innovative and highly visual design offers a dynamic, reading experience.