Reviewed by: Debbie Reese
Review Source: American Indians in Children's Literature
Book Author: Lisa Charleyboy, Mary Beth Leatherdale
#NotYourPrincess is one of those books that is so stunning in so many ways, it is kind of hard to decide where to start!
Let's start with the title. The hashtag title is perfection. It boldly says that Native women are here and we have things to say.
Some of you may know that a lot of activism takes place on Twitter. Native people have been creating and using hashtags to inform others about the things Native people care about. Did you, for example, follow the conversations that took place using #NotYourPocahontas and #NotYourMascot? Continue reading.
---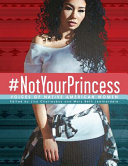 Notyourprincess: Voices of Native American Women
by
Lisa Charleyboy
,
Mary Beth Leatherdale
Published by
ANNICK PRESS
,
Limited
on September 12th 2017
Genres:
American Indians First Nations Metis Inuit
,
Girls and Women
,
OwnVoices
,
Poetry
Pages:
112
Reading Level:
Grades 6-8
,
High School
ISBN:
9781554519576
Review Source:
American Indians in Children's Literature
Also by this author:
Urban Tribes
Publisher's Synopsis Whether looking back to a troubled past or welcoming a hopeful future, the powerful voices of Indigenous women across North America resound in this book. In the same style as the best-selling Dreaming in Indian, #Not Your Princess presents an eclectic collection of poems, essays, interviews, and art that combine to express the experience of being a Native woman. Stories of abuse, humiliation, and stereotyping are countered by the voices of passionate women making themselves heard and demanding change. Sometimes angry, often reflective, but always strong, the women in this book will give teen readers insight into the lives of women who, for so long, have been virtually invisible.