Reviewed by Deborah Menkart
Review Source: Rethinking Schools
Book Author: Ann E. Burg
When Grace, the enslaved protagonist of this beautiful novel-length poem, turns 9, she is sent to live and work in the big house, forcing a heart-wrenching separation from her family. Then Grace hears that her mother and younger brothers will be placed on the auction block. She steals back to her family and they escape immediately. After a harrowing journey, they join a maroon community in the Great Dismal Swamp. Even in their newfound liberty, Grace's family is surrounded by wild animals and the threat of slave catchers. In the midst of her new community, Grace struggles to find and define the meaning of "freedom."  Ann E. Burg's extensive research of the Federal Writers' Project interviews and at the Schomburg Center are reflected in the details that bring Grace's story, and this little-told piece of U.S. history, to life.
---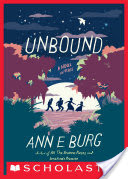 Unbound: A Novel in Verse
by
Ann E. Burg
Published by
Scholastic Inc.
on September 27th 2016
Genres:
African American
,
Historical Fiction
,
Immigration and Emigration
,
Racism
,
Slavery
,
U.S. History
,
World History
Pages:
352
Reading Level:
Grades 3-5
,
Grades 6-8
ISBN:
9780545937870
Review Source:
Rethinking Schools
Publisher's synopsis: The day Grace is called from the slave cabins to work in the Big House, Mama makes her promise to keep her eyes down. Uncle Jim warns her to keep her thoughts tucked private in her mind or they could bring a whole lot of trouble and pain. But the more Grace sees of the heartless Master and hateful Missus, the more a rightiness voice clamors in her head-asking how come white folks can own other people, sell them on the auction block, and separate families forever. When that voice escapes without warning, it sets off a terrible chain of events that prove Uncle Jim's words true. Suddenly, Grace and her family must flee deep into the woods, where they brave deadly animals, slave patrollers, and the uncertainty of ever finding freedom. With candor and compassion, Ann E. Burg sheds light on a startling chapter of American history--the remarkable story of runaways who sought sanctuary in the Great Dismal Swamp--and creates a powerful testament to the right of every human to be free.