Reviewed by Conner Suddick
Review Source: Teaching for Change
Book Authors: Jacqueline Houtman, Walter Naegle, Michael G. Long
Troublemaker for Justice illuminates readers on the life and legacy of Bayard Rustin. A notable civil rights leader, Rustin is often cast into the historical shadows of the civil rights movement because of his sexuality, his political engagement with the communist party during the Cold War, and his conscientious objection to World War II. Houtman, Naegle, and Long provide an in-depth history of Bayard Rustin's life, from his early childhood to his death in 1987. Inspired by his Quaker upbringing and the nonviolent direct organizing tactics of Mohandas Gandhi (Mahatma Gandhi), Rustin strongly believed in the value of community organizing and remained true to his values of equality, peace, and civil disobedience.
Rustin's life illustrates how the personal is political. As a Black, gay, working-class man, Rustin was not motivated solely by his marginalized identities. The authors present in detail how Rustin deeply believed in the principle of nonviolence and direct action, even when it isolated and alienated him. He remained true to his identity as a gay man, even when it resulted in professional turmoil with other leaders in the civil rights movement.
Following his arrest in Pasadena, California, on morality charges ("homosexual conduct"), Rustin was moved to behind-the-scenes work for organizing nonviolent protests by Rev. Dr. Martin Luther King Jr., with input from the rest of King's inner circle. Bayard Rustin was not often in the limelight for his brilliant organizing work, including the 1963 March on Washington for Jobs and Freedom, because his identity was contested by proponents and opponents of the civil rights movement. There is a lack of depth and acknowledgment by historians of Bayard Rustin's identity as a gay man. Troublemaker for Justice succeeds at presenting Rustin as a multifaceted, virtuous, and hardworking person, not limited to any of his identities.
Troublemaker for Justice is a great resource for middle and high school students with an advanced reading level to learn about activism, nonviolent organizing, the civil rights movement, and LGBTQ+ changemakers. By providing an in-depth narrative of an often overlooked historical figure, this book connects the dots between the less-told Journey for Reconciliation with the widely-known Freedom Riders Movement. This book contains great explanations of complicated terms/movements/ideologies, numerous graphics, and includes basic discussion questions to use in classroom teaching.
The book is limited because it reflects only on Bayard Rustin's experiences. This book is a great resource on the civil rights movement but does not discuss the LGBTQ+ Rights Movement or the Black Power Movement in depth. The book places these movements in a greater context of what activism and organizing preceded these movements.
As a leader from the shadows, Rustin's legacy provides much light and illustrates the value of cultivating untold stories. Rustin did not do any of his advocacy or organizing for his personal glory. His life shows how steadfast determination and planting seeds for change is more important than reaping immediate reward.
That seed, I pray, be evergreen
That in my dust may always be
That everlasting life and joy
You manifest in that green tree.
~ Bayard Rustin
Conner Suddick was a Truman Scholar interning with Teaching for Change in 2019.  
---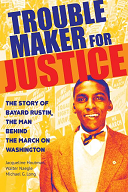 Troublemaker for Justice
by
Jacqueline Houtman
,
Walter Naegle
,
Michael G. Long
Published by
City Lights Books
on 2019
Genres:
Activism
,
African American
,
Civil Rights Movement
,
LGBTQ
,
Racism
,
U.S. History
Pages:
168
Reading Level:
Grades 6-8
,
High School
ISBN:
9780872867659
Review Source:
Teaching for Change
Publisher's Synopsis: A biography for younger readers about one of the most influential activists of our time, who was an early advocate for African Americans and for gay rights

"In today's political landscape, this volume is a lesson in the courage to live according to one's truth and the dedication it takes to create a better world. An essential guide to the life of Bayard Rustin, architect of critical movements for freedom and justice."--Kirkus Reviews, Starred Review

Bayard Rustin was a major figure in the Civil Rights movement. He was arrested on a bus 13 years before Rosa Parks and he participated in integrated bus rides throughout the South 14 years before the Freedom Riders. He was a mentor to Dr. Martin Luther King, Jr., teaching him the techniques and philosophy of Gandhian nonviolent direct action. He organized the March on Washington in 1963, one of the most impactful mobilizations in American history. Despite these contributions, few Americans recognize his name, and he is absent from most history books, in large part because he was gay. This biography traces Rustin's life, from his childhood and his first arrest in high school for sitting in the "whites only" section of a theater, through a lifetime of nonviolent activism.

Intended for young audiences, with numerous photographs and sidebars, this book will also appeal to older readers who want to learn more about this fascinating man who sang on Broadway with Paul Robeson, was imprisoned for his activism and worked on a chain gang, advised Martin Luther King, and more. Bayard Rustin was a lifelong activist for peace and justice, a fearless nonviolent resistor whose story is inspiring, educational and very relevant today.

Praise for Troublemaker for Justice

"In Troublemaker for Justice children and teens can finally discover the story of the man who possibly was the most influential person in the struggle for Civil Rights--Bayard Rustin. They'll discover a man who was behind many, if not most, Civil Rights and human rights efforts in the United States and around the world in the 1940s-1980s. They'll discover a man who was willing to work behind the scenes, who was willing to be in the background in photos, and who was willing to work for a purpose not for praise or notoriety. They'll discover an African American gay man who never forgot his Quaker roots and who sought to peacefully create social justice so that equality became more than a word, it became a reality. This carefully researched book is one that children, teenagers, and adults should read and discuss, and the life of Bayard Rustin is one we should all emulate."--Rob Sanders, author of Pride: The Story of Harvey Milk and the Rainbow Flag

"Written with verve and an unerring eye for the important details, as well as the larger picture, Troublemaker for Justice is a nuanced, vital, and compelling portrait of civil rights leader Bayard Rustin. It is beautifully imagined and positioned perfectly in a thrilling sweep of U.S. history. Rustin's life was a series of breakneck collisions with history and Troublemaker for Justice captures the energy and importance of his personal and political life. Perfect for any reader young adult or older, who wants to know more about Rustin, social justice movements, and how brave, visionary people have changed American history and made all of our lives better."--Michael Bronski, author of A Queer History of the United States

Teachers: Discussion Guide Available! Explanation of Common Core Instructional Standards Available! Reach out to the publisher at Stacey [@] citylights.com