Reviewed by Mark Oshiro
Review Source: Latinx in Kid Lit
Book Author: Elizabeth Acevedo
DESCRIPTION OF THE BOOK: Xiomara Batista feels unheard and unable to hide in her Harlem neighborhood. Ever since her body grew into curves, she has learned to let her fists and her fierceness do the talking.
But Xiomara has plenty she wants to say, and she pours all her frustration and passion onto the pages of a leather notebook, reciting the words to herself like prayers—especially after she catches feelings for a boy in her bio class named Aman, who her family can never know about.
With Mami's determination to force her daughter to obey the laws of the church, Xiomara understands that her thoughts are best kept to herself. So when she is invited to join her school's slam poetry club, she doesn't know how she could ever attend without her mami finding out. But she still can't stop thinking about performing her poems.
Because in the face of a world that may not want to hear her, Xiomara refuses to be silent.
MY TWO CENTS: I had a difficult childhood. I was queer and Latinx and stuck in a home with parents who did not understand either identity and certainly not the intersection of them. (I was adopted.) It meant that I felt that I existed in constant friction with them. That friction manifested in a deep, existential desire in me: I wanted acceptance. I wanted to live.
I found that same desire within the pages of The Poet X, Elizabeth Acevedo's masterful and gut-wrenching debut. Told in verse, I devoured this book in one sitting, only taking a break to wipe at the tears that welled in my eyes. Acevedo has crafted a living, breathing world in Xiomara, and you can tell that from the very first page. Her unique voice, coupled with an engaging story about acceptance, rebellion, and identity in this Dominican-American teen, makes The Poet X a powerful read. Continue reading.
---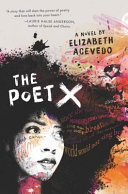 The Poet X
by
Elizabeth Acevedo
Published by
HarperCollins
on March 6, 2018
Genres:
Latinx
,
LGBTQ
Pages:
368
Reading Level:
High School
ISBN:
9780062662804
Review Source:
Latinx in Kid Lit
Also by this author:
Clap When You Land
Publisher's Synopsis: A 2018 National Book Award Finalist!

Fans of Jacqueline Woodson, Meg Medina, and Jason Reynolds will fall hard for this astonishing New York Times-bestselling novel-in-verse by an award-winning slam poet, about an Afro-Latina heroine who tells her story with blazing words and powerful truth.

Xiomara Batista feels unheard and unable to hide in her Harlem neighborhood. Ever since her body grew into curves, she has learned to let her fists and her fierceness do the talking.

But Xiomara has plenty she wants to say, and she pours all her frustration and passion onto the pages of a leather notebook, reciting the words to herself like prayers—especially after she catches feelings for a boy in her bio class named Aman, who her family can never know about.

With Mami's determination to force her daughter to obey the laws of the church, Xiomara understands that her thoughts are best kept to herself. So when she is invited to join her school's slam poetry club, she doesn't know how she could ever attend without her mami finding out. But she still can't stop thinking about performing her poems.

Because in the face of a world that may not want to hear her, Xiomara refuses to be silent.

"Crackles with energy and snaps with authenticity and voice." —Justina Ireland, author of Dread Nation

"An incredibly potent debut." —Jason Reynolds, author of the National Book Award Finalist Ghost

"Acevedo has amplified the voices of girls en el barrio who are equal parts goddess, saint, warrior, and hero." —Ibi Zoboi, author of American Street