Reviewed by Shea Martin
Review Source: Electric Lit
Book Author: Elizabeth Acevedo
I don't remember where I was when I heard about Covid-19, when I learned that life would never be the same. Nine months later, I am still trying to reconcile with this new normal of grief and isolation. In her highly-lauded sophomore release, Clap When You Land, Elizabeth Acevedo tells us we're never prepared for these moments, "When you learn news like this, there is only / falling." In many ways, we've been falling since March. Clap When You Land won't break your fall, but Acevedo's poetry will hold your hand, reminding you you're not alone.
In this gripping story about the messiness of family, death, and love, Acevedo chronicles the lives of two sisters, Yahaira and Camino, as they grieve and connect following the tragic death of their father. Acevedo's verse reads like a dope NYC cipher — brilliant, unorthodox, and beautiful; it is the fire we need to keep us warm this winter. Like her previous bestseller, The Poet X, this novel honors the nuances and beauty of Dominican-American culture, slaps with its authenticity and richness; and makes you long for the beat to drop (and never stop).
---
Also reviewed on De Colores: The Raza Experience in Books for Children
---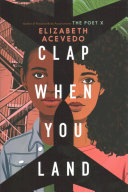 Clap When You Land
by
Elizabeth Acevedo
Published by
HarperCollins Publishers
on May 5, 2020
Genres:
Poetry
,
Banned Books
Pages:
432
Reading Level:
High School
ISBN:
9780062882769
Review Source:
Electric Lit
Also by this author:
The Poet X
Publisher's Synopsis: In a novel-in-verse that brims with grief and love, National Book Award-winning and New York Times bestselling author Elizabeth Acevedo writes about the devastation of loss, the difficulty of forgiveness, and the bittersweet bonds that shape our lives.

Camino Rios lives for the summers when her father visits her in the Dominican Republic. But this time, on the day when his plane is supposed to land, Camino arrives at the airport to see crowds of crying people . . .

In New York City, Yahaira Rios is called to the principal's office, where her mother is waiting to tell her that her father, her hero, has died in a plane crash.

Separated by distance — and Papi's secrets — the two girls are forced to face a new reality in which their father is dead and their lives are forever altered. And then, when it seems like they've lost everything of their father, they learn of each other.

Great for summer reading or anytime! Clap When You Land is a Today Show pick for "25 children's books your kids and teens won't be able to put down this summer!"

Plus don't miss Elizabeth Acevedo's The Poet X and With the Fire on High!