Reviewed by: Kathleen Nganga
Review source: Independent
Book Author: Bunmi Laditan
The Big Bed written by Bunmi Laditan and illustrated by Tom Knight is a delightful read. In the book, the young black female protagonist explains to her father why he shouldn't sleep in the "big bed" with her and her mother. The young girl reasons with her father; she first explains his importance in the household, but then transitions to make her case about why she needs access to her mother at night and even offers alternative sleeping arrangements for her father. The girl suggests that her father could go to her grandmother's home, because, after all, her grandmother is his mother. Or, perhaps he can sleep on a camping cot near the big bed.
Laditan writes an engaging and comical story, but what makes her writing especially rich is that through this tale Laditan touches on the challenges that young children face. For instance, one of the points that the young protagonist raises with her father is that she needs to stay in the big bed because she is afraid of the dark. She explains, "Science has proven that one of the many symptoms of bedtime is darkness. Daddy, are you scared of the dark? Because I am…I can't sleep alone." She also tells her father that the night light that is supposed to provide her with feelings of security actually "creates more shadows than it banishes."  This moment provides young readers and the adults reading along with them a chance to address possible feelings of fear at night, things that might be increasing the child's nighttime anxiety, and how to find comfort in the dark. The young girl also talks with her father about her tendency to wet the bed. Moments like these make the book a window for engaging with the challenges, frustrations, and fears that young children face. However, perhaps even more important is that this book about the mundane aspects of childhood has black characters as the main characters.
It is critical for multicultural children's literature to not just feature the exceptional, or discuss discrimination, or depict activism, but to also show imagery of black people engaged in non-exception everyday life that all students, regardless of their background, might imagine as aspects of their own lives. In fact, in The Big Bed, Laditan doesn't name any of the characters. The lack of named characters provides young readers the chance to think about the young girl as maybe a part of themselves or someone they might know.
Kathleen Nganga was an intern with Teaching for Change in the summer of 2018 as part of her Truman Fellowship.
---
Also reviewed by Deborah W. Thomas, Tellin' Stories Roving Readers Coordinator.
---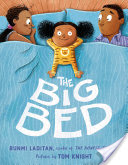 The Big Bed
by
Bunmi Laditan
Illustrator:
Tom Knight
on February 6, 2018
Genres:
Family
,
Multigenerational
,
Read Alouds
Pages:
32
Reading Level:
Early Childhood
,
Grade K
,
Grades 1-2
ISBN:
9781466897847
Review Source:
Independent
Also by this author:
The Big Bed
Publisher's Synopsis:

From Bunmi Laditan, the creator of the Honest Toddler blog, The Big Bed is a humorous picture book about a girl who doesn't want to sleep in her little bed, so she presents her dad with his own bed—a camping cot!—in order to move herself into her parents' big bed in his place. A twist on the classic parental struggle of not letting kids sleep in their bed.