Reviewed by Deborah W. Thomas
Tellin' Stories Roving Readers Coordinator
Review Source: Teaching for Change
Book Author: Bunmi Laditan
A young girl negotiates with her dad about who should sleep in the big bed with mommy.
Not wanting to hurt her dad's feelings, a little girl calls a meeting to discuss a problem they have, The Big Bed. Being ever so diplomatic and logical, she points out his good character traits. During the daytime, he is great at wrestling and horsie rides. In fact, he's the VIP of piggyback rides, a very important piggyback ride giver. But the question remains, who does mommy belong to? Doesn't he have his own mommy?
She works like a seasoned negotiator, presenting her facts. Dressed in her lab coat she points out why she can't sleep alone, and her fear in the dark. With her easel, charts, and pictures, she concludes that dad needs a cot. He can start out in the big bed and once he is asleep, she and mommy will roll him in over on his cot. In the morning he can get back in bed with them.
Throughout the story, the big round eyes of the characters help to express the feelings of the family in solving this problem. Children will love this bedtime story and adults will laugh at how children have the innocent ability to manipulate us.
---
Also reviewed by Kathleen Nganga, Truman Fellow and Teaching for Change Summer 2019 Intern.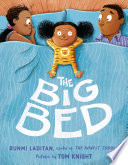 The Big Bed
by
Bunmi Laditan
on February 6, 2018
Genres:
African American
Pages:
32
Reading Level:
Early Childhood
ISBN:
9780374301231
Review Source:
Teaching for Change
Buy at Powell's Books
Also by this author:
The Big Bed
Publisher's Synopsis: From Bunmi Laditan, the creator of the Honest Toddler blog, The Big Bed is a humorous picture book about a girl who doesn't want to sleep in her little bed, so she presents her dad with his own bed—a camping cot!—in order to move herself into her parents' big bed in his place. A twist on the classic parental struggle of not letting kids sleep in their bed.