Reviewed by Deborah Menkart
Review Source: Rethinking Schools
Book Author: Kelly Starling Lyons
We should all know the story and words of the Black National Anthem, "Lift Every Voice and Sing," and now thanks to this picture book, we can. Author Kelly Starling Lyons tells the 120-year history of the song through generations of her family who have passed it on — starting with a young girl who learned it in 1900 in Jacksonville, Florida, from her principal (James Weldon Johnson) and his brother. They wrote the song and music that have given strength and inspiration to African Americans through many of the trials and celebrations described in the book — the Great Migration, Jim Crow, the Civil Rights Movement, graduations, and the opening of the National Museum of African American History and Culture (NMAAHC).
---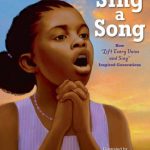 Sing a Song
by
Kelly Starling Lyons
Published by
Penguin Young Readers Group
on 2019
Genres:
African American
,
Music
,
U.S. History
Pages:
32
Reading Level:
Grade K
,
Grades 1-2
,
Grades 3-5
ISBN:
9780525516095
Review Source:
Rethinking Schools
Also by this author:
Tea Cakes for Tosh
,
Ellen's Broom
,
Dream Builder
Publisher's Synopsis: Just in time for the 120th anniversary of the song "Lift Every Voice and Sing"--this stirring book celebrates the Black National Anthem and how it inspired five generations of a family.

Sing a song full of the faith that the dark past has taught us.Sing a song full of the hope that the present has brought us.

In 1900, in Jacksonville, Florida, two brothers, one of them the principal of a segregated, all-black school, wrote the song "Lift Every Voice and Sing" so his students could sing it for a tribute to Abraham Lincoln's birthday. From that moment on, the song has provided inspiration and solace for generations of Black families. Mothers and fathers passed it on to their children who sang it to their children and grandchildren. It has been sung during major moments of the Civil Rights Movement and at family gatherings and college graduations. Inspired by this song's enduring significance, Kelly Starling Lyons and Keith Mallett tell a story about the generations of families who gained hope and strength from the song's inspiring words.