Reviewed by: Deborah Menkart
Reviewed Source: Zinn Education Project
Book Author: Margarita Engle
Using her trademark style—multiple voices in free verse to share untold historical events —Margarita Engle introduces young readers to the builders of the Panama Canal. The protagonist is Mateo, a young boy from the Caribbean, lured with promises of good pay and work. Instead, he finds an apartheid system where people of color are subjected to treacherous working conditions and paid in silver; the whites are paid in gold. Continue reading.
---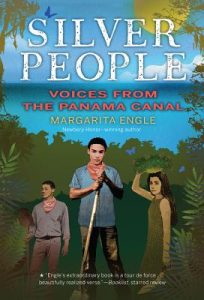 Silver People
by
Margarita Engle
Published by
Houghton Mifflin Harcourt
on 2014
Genres:
Central America
,
Historical Fiction
,
Labor
Pages:
260
Reading Level:
Grades 6-8
,
High School
ISBN:
9780544109414
Review Source:
Zinn Education Project
Also by this author:
The Sky Painter
,
Hurricane Dancers
,
Drum Dream Girl
Publisher's synopsis: One hundred years ago, the world celebrated the opening of the Panama Canal, which connected the world's two largest oceans and signaled America's emergence as a global superpower. It was a miracle, this path of water where a mountain had stood—and creating a miracle is no easy thing. Thousands lost their lives, and those who survived worked under the harshest conditions for only a few silver coins a day.

From the young "silver people" whose back-breaking labor built the Canal to the denizens of the endangered rainforest itself, this is the story of one of the largest and most difficult engineering projects ever undertaken, as only Newbery Honor-winning author Margarita Engle could tell it.