Reviewed by Deborah Menkart
Book Author: Margarita Engle
Cuban American novelist Margarita Engle's award-winning book of young adult historical fiction takes the form of poetry about the conquest and resistance.
The main character is a young man whose mother is Taíno and father is Spanish. Pirates hold him captive and use him as a translator. After a shipwreck he escapes and finds a Taíno community, only to be confronted again by his captors and the opportunity to determine their fate. The rich language in this book makes it enjoyable, informative, and engaging for children and adults.
---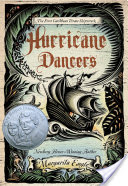 Hurricane Dancers
by
Margarita Engle
Published by
Macmillan
on March 15th 2011
Genres:
Caribbean
,
Stories in Verse
,
World History
Pages:
145
Reading Level:
Grades 6-8
ISBN:
9780805092400
Review Source:
Rethinking Schools
Also by this author:
The Sky Painter
,
Drum Dream Girl
,
Enchanted Air: Two Cultures, Two Wings: A Memoir
SYNOPSIS: Quebrado has been traded from pirate ship to ship in the Caribbean Sea for as long as he can remember. The sailors he toils under call him el quebrado—half islander, half outsider, a broken one. Now the pirate captain Bernardino de Talavera uses Quebrado as a translator to help navigate the worlds and words between his mother's Taíno Indian language and his father's Spanish.
But when a hurricane sinks the ship and most of its crew, it is Quebrado who escapes to safety. He learns how to live on land again, among people who treat him well. And it is he who must decide the fate of his former captors. Latino interest.