Reviewed by Fatima Barnes
Review Source: Africa Access
Book Author: Luke W. Molver
The graphic novels – Shaka Rising and the sequel, King Shaka – are  imaginative, engaging, and innovative ways of narrating the legend of Shaka, the most renowned 19th century  monarch in Southern Africa. Comic book writer-illustrator Luke Molver, a South African born in Durban,  does an excellent job of telling and showing the rise of King Shaka and the Zulu nation in the wider context of individuals and groups in the region at the time. The Zulu belong to the Nguni linguistic group as do the Ndwande and Mthethwa people featured in the books. Shaka's name is familiar to many  in the West but the other major players in Shaka's time, less so. Molver helps readers by providing images, names, and clans of historical figures at the very beginning of both graphic novels. Background notes provide useful information on history, aspects of Zulu culture, a glossary, chronology, pronunciation guide, critical thinking questions and more. Readers and teachers exploring these novels will find these additions  invaluable.
In the 15th century, the Zulu were a small clan of Nguni people  descended from Zulu kaMalandela, a common ancestor who founded the royal line.  By the early 19th century, the Zulu under Shaka dominated the northeastern areas of current day South Africa including KwaZulu-Natal. Historians often compare Shaka to European nation-builders including Napoleon, Bismark, and Garibaldi.
The first book, Shaka Rising, A Legend of the Warrior Prince opens with Shaka Zulu's formative years.  Heir apparent to his father, Senzangakona, chief of the Zulus, Shaka's path to power is challenged by his brother.  As tension builds, Shaka is forced to seek refuge with another Nguni clan. In exile, Shaka builds his skills as a military leader and is soon noticed by Dingiswayo, king of the Mthethwa confederation, a collection of some 30 Nguni societies  united under his rule. When Shaka's father dies, Dingiswayo helps Shaka become chief of the Zulu. Eventually Shaka becomes the king of the Mthethwa confederacy. Shaka Rising covers this turbulent period, highlighting Shaka's  skills, his rise to power, and the defense of his people from the slave trade spreading from East Africa. Continue reading.
---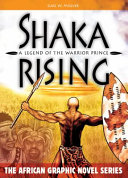 Shaka Rising
by
Luke W. Molver
Published by
Story Press Africa
on 2018
Genres:
Africa
,
Graphic Novels and Comics
Pages:
90
Reading Level:
Grades 6-8
,
High School
ISBN:
9781946498984
Review Source:
Africa Access
Also by this author:
King Shaka
Publisher's Synopsis: A 2019 Children's Africana Book Awards Honor Book for Older Readers.
Shortlisted for the Nommo Awards for African Speculative Fiction--Graphic Novel.

A time of bloody conflict and great turmoil. The slave trade expands from the east African coast. Europeans spread inland from the south. And one young boy is destined to change the future of southern Africa. This retelling of the Shaka legend explores the rise to power of a shrewd young prince who must consolidate a new kingdom through warfare, mediation, and political alliances to defend his people against the expanding slave trade.

"A worthy introduction that offers a young Anglophone audience entry into a legend of Africa without the annoyance of overtranslation and with refreshingly three-dimensional characters." --Kirkus

"Deftly written and superbly illustrated by Luke Molver, Shaka Rising: A Legend of the Warrior Prince is a truly extraordinary and entertaining graphic novel that will decidedly prove to be an enduringly popular addition to community library graphic novel collections for readers ages 16 to 86." Midwest Book Review

Luke Molver is a graphic novelist whose world is fueled by the art of storytelling. He lives in Cape Town, where reality continues to interfere with his daily life.