Reviewed by Fatima Barnes
Review Source: Africa Access
Book Author: Luke W. Molver
The graphic novels – Shaka Rising and the sequel, King Shaka – are  imaginative, engaging, and innovative ways of narrating the legend of Shaka, the most renowned 19th century  monarch in Southern Africa. Comic book writer-illustrator Luke Molver, a South African born in Durban,  does an excellent job of telling and showing the rise of King Shaka and the Zulu nation in the wider context of individuals and groups in the region at the time. The Zulu belong to the Nguni linguistic group as do the Ndwande and Mthethwa people featured in the books. Shaka's name is familiar to many  in the West but the other major players in Shaka's time, less so. Molver helps readers by providing images, names, and clans of historical figures at the very beginning of both graphic novels. Background notes provide useful information on history, aspects of Zulu culture, a glossary, chronology, pronunciation guide, critical thinking questions and more. Readers and teachers exploring these novels will find these additions  invaluable.
In the 15th century, the Zulu were a small clan of Nguni people  descended from Zulu kaMalandela, a common ancestor who founded the royal line.  By the early 19th century, the Zulu under Shaka dominated the northeastern areas of current day South Africa including KwaZulu-Natal. Historians often compare Shaka to European nation-builders including Napoleon, Bismark, and Garibaldi.
The first book, Shaka Rising, A Legend of the Warrior Prince opens with Shaka Zulu's formative years.  Heir apparent to his father, Senzangakona, chief of the Zulus, Shaka's path to power is challenged by his brother.  As tension builds, Shaka is forced to seek refuge with another Nguni clan. In exile, Shaka builds his skills as a military leader and is soon noticed by Dingiswayo, king of the Mthethwa confederation, a collection of some 30 Nguni societies  united under his rule. When Shaka's father dies, Dingiswayo helps Shaka become chief of the Zulu. Eventually Shaka becomes the king of the Mthethwa confederacy. Shaka Rising covers this turbulent period, highlighting Shaka's  skills, his rise to power, and the defense of his people from the slave trade spreading from East Africa. Continue reading.
---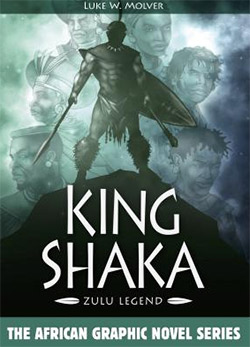 King Shaka
by
Luke W. Molver
Published by
Story Press Africa
on 2019-10
Genres:
Africa
,
Graphic Novels and Comics
Pages:
96
Reading Level:
Grades 6-8
,
High School
ISBN:
9781946498939
Review Source:
Africa Access
Also by this author:
Shaka Rising
Publisher's Synopsis: Shaka has fought his brother to the death for rulership of the Zulu. Now king of the southern chiefdoms, Shaka seeks to uplift his people, consolidate alliances, and expand the reach of his power. But challenges both external and internal threaten his rule. A rogue military unit exacts revenge on its enemies. Land-hungry Europeans arrive and ingratiate themselves with Shaka, even while plotting their own path to power. And closer to home, Shaka's own brothers conspire in secret.