Reviewed by Paige Pagan
Review Source: Teaching for Change
Book Author: Jenny Sue Kostecki-Shaw
This picture book intends to teach early elementary children that despite living in different countries and coming from different cultures and lifestyles, friendships may still be forged based on similarities. Elliot and Kailash are pen pals who take each other on a journey into their lives and in the process, find that although they live in two different nations, they share many of the same things. Elliot is a Caucasian American boy who lives in a red brick building in a major city with his mother, father, baby sister, dog, and fish. Kailash is a boy from India who lives with 23 family members and a host of farm animals. 
Regardless of those differences, both boys enjoy climbing trees — Elliot climbs up a tree to his tree house and Kailash climbs up a tree to where monkeys reside. They both ride with their friends to school — Elliot in a school bus and Kailash in a rickshaw. And both boys learn the alphabet in class — Elliot in English and Kailash in Hindi. 
In Kostecki-Shaw's contrast of the two boys' lifestyles, she reinforces all the stereotypical norms about the United States versus all other countries. Readers are provided a fuller picture of Elliot who comes from a white nuclear family in an urban landscape. This normalizes the face of America being Caucasian and wealthy, disregarding America's diversity across people, places, and social status. Descriptions of Kailash are less nuanced. Readers know that he comes from India, but not where in this vast nation. Instead, the picture children receive of India is based on popular iconography, such as the Taj Mahal and assumptions like all Indian families live in intergenerational homes; they cohabit their environment with animals; the main means of transportation are rickshaws, elephants, and camels; and the national language is Hindi. Both representations of the United States and India are not authentic. 
In the illustration of Elliot's world, the West is centered with the American flag in the middle, following the common trope of elevating American patriotism. On the other hand, the illustration of Kailash's world is an all-green landscape with a single river flowing through it paired with stereotypical symbols of India such as the Bengal tiger, the lotus flower, and the elephant. These one-dimensional representations of both worlds are less a negative reflection of the boys' worldviews and more on Kostecki-Shaw's unoriginal typecasting.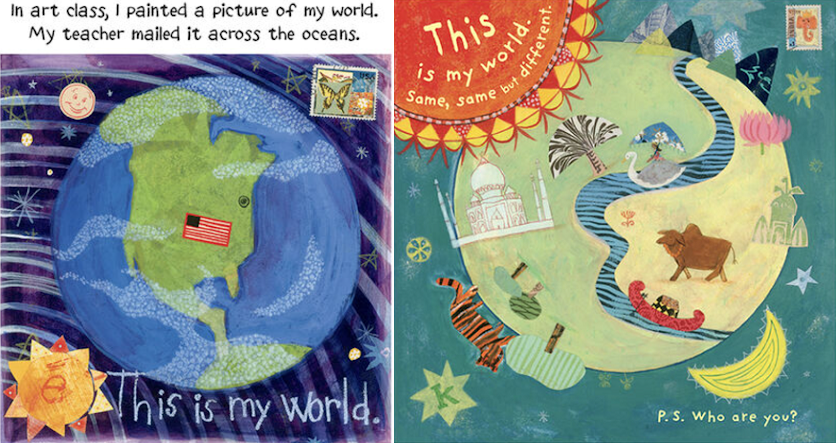 Children are left with a conflation and contradiction — Kostecki-Shaw highlights the boys' differences, while at the same time asserting they're the same. I do not recommend this book. Alternatively, I suggest introducing children to texts such as Where Three Oceans Meet by Rajani Larocca, which paints a more authentic and whole picture of India and the differences between India and America. 
Paige Pagan is a Social Justice Books Program Specialist at Teaching for Change.
---

Same, Same But Different
by
Jenny Sue Kostecki-Shaw
Published by
Henry Holt and Company (BYR)
on September 13, 2011
Genres:
Friendship
Pages:
36
Reading Level:
Grade K
,
Grades 1-2
ISBN:
9781429961561
Review Source:
Teaching for Change
Publisher's Synopsis: Elliot lives in America, and Kailash lives in India. They are pen pals. By exchanging letters and pictures, they learn that they both love to climb trees, have pets, and go to school. Their worlds might look different, but they are actually similar. Same, same. But different!

Through an inviting point-of-view and colorful, vivid illustrations, this story shows how two boys living oceans apart can be the best of friends.