Reviewed by Paige Pagan
Review Source: Teaching for Change
Book Author: Rajani LaRocca
This picture book for elementary readers tells the story of three generations of women taking a trip through South India to Kanyakumari known as "Land's End" where three oceans meet. Sejal, Mommy, and Pati all have different motivations for traveling, but they all share comfort in the time spent with each other. Pati lives in her home with traditional red oxide flooring in Bangalore, speaks Tamil and Kannada, wears nine yard saris, and wants to visit temples. Mommy wears six yard saris and wants to visit friends she hasn't seen since immigrating to the United States. Sejal wears Indo-western attire, speaks a mish-mash of English, Tamil, and Kannada, and wants to discover what's at the end of the earth.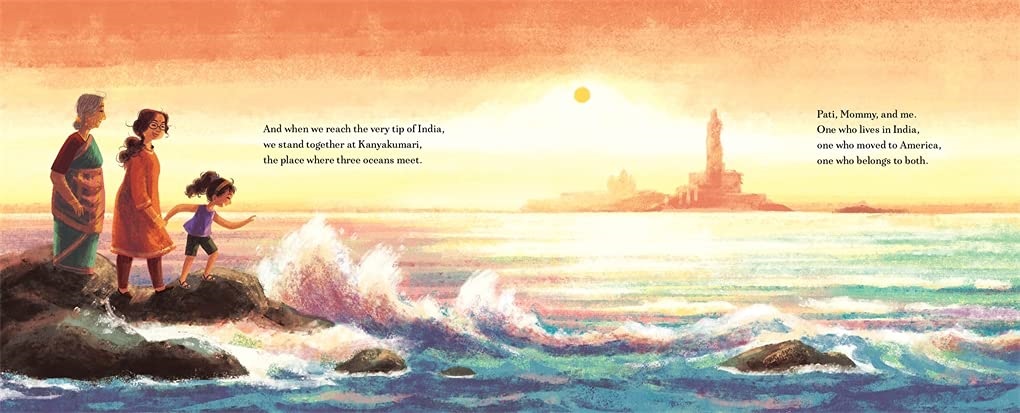 This is a diasporic narrative that not only tells of nostalgia and longing, but also of the enduring nature of love over land and sea and the sentiment of home always being in one's heart. Sejal becomes the embodiment of Kanyakumari, standing between and belonging to both India and America, representing a new generation of Indian Americans. At the end of the earth with Mommy and Pati, Sejal learns that three generations of women standing together, although only for the time being, is a force far greater than any distance can move. 
In a similar vein to the faceted ways that Jhumpa Lahiri presents the challenges of Indian American cultural plurality and hybridity in her adult fiction, Larocca humanizes and translates this process into something tangible for children to read and resonate with.
Paige Pagan is a Social Justice Books Program Specialist at Teaching for Change.
---

Where Three Oceans Meet
by
Rajani LaRocca
Published by
Abrams
on August 24, 2021
Genres:
Asia
,
Asian American
,
Family
,
Grandparents and Elders
,
Immigration and Emigration
Pages:
40
Reading Level:
Grade K
,
Grades 1-2
ISBN:
9781419741296
Review Source:
Teaching for Change
Publisher's Synopsis: A child, mother, and grandmother travel all the way to the end of the earth in this picture book that celebrates multigenerational love—perfect for fans of Drawn Together and Alma.

"I want to see what's at the end of the earth "

Sejal, Mommy, and Pati travel together to the southern tip of India. Along the way, they share meals, visit markets, and catch up with old friends. For Pati, the trip retraces spaces she knows well. For Mommy, it's a return to the place she grew up. For Sejal, it's a discovery of new sights and sounds. The family finds their way to Kanyakumari, where three oceans meet, and delight in making it to the end of the earth together. This own voices picture book celebrates the beauty of India and the enduring love of family.