Reviewed by: Cindy L. Rodriguez
Review Source: Latinxs in Kid Lit
Book Author: Julia Alvarez
Although Before We Were Free and Return to Sender are set in different countries, they have similarities. In Return to Sender, Mari and her family are migrant workers on a Vermont dairy farm. She encounters a mix of acceptance and scorn from her classmates, the townspeople, and even Tyler, at first. The chapters are shared between Mari (first person, often written in letters) and Tyler (third person), who reveals that he is confused about being a proud, patriotic American and knowing that his father is breaking the law by hiring undocumented workers. In addition to dealing with the varied reactions of the locals, Mari's family worries about the whereabouts of her mother, who returned to Mexico but is supposed to be on her way back via a coyote. She has been unreachable, however, for several months. The family is also under constant threat of deportation. Complicating matters, Mari was born in Mexico, while her two younger sisters were born in the United States, which splits their feelings about where is home and how they would feel if they needed to return to Mexico.
Like Anita in Before We Were Free, Mari ends up in hiding and writing in a diary, after a raid by the U.S. Immigration and Customs Enforcement ends with her parents being arrested. Also like Anita, Mari needs to find her voice and, in her case, she has to find the courage to speak on behalf of her family to government officials. Read together, students could explore the different reasons for immigration, as the families in the two novels come to the United States for different reasons–political asylum versus employment–yet the underlying reason is always the same–more opportunities for their children. Continue reading.
---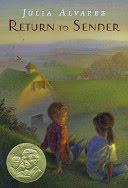 Return to Sender
by
Julia Alvarez
Published by
Random House Children's Books
on 2010-09
Genres:
Family
,
Immigration and Emigration
,
Labor
,
Latinx
Pages:
325
Reading Level:
Grades 3-5
,
Grades 6-8
ISBN:
9780375851230
Review Source:
Latinx in Kid Lit
Also by this author:
Before We Were Free
Publisher's Synopsis: After Tyler's father is injured in a tractor accident, his family is forced to hire migrant Mexican workers to help save their Vermont farm from foreclosure. Tyler isn't sure what to make of these workers. Are they undocumented? And what about the three daughters, particularly Mari, the oldest, who is proud of her Mexican heritage but also increasingly connected her American life. Her family lives in constant fear of being discovered by the authorities and sent back to the poverty they left behind in Mexico. Can Tyler and Mari find a way to be friends despite their differences?

In a novel full of hope, but no easy answers, Julia Alvarez weaves a beautiful and timely story that will stay with readers long after they finish it.

From the Hardcover edition.