Reviewed by Cindy L. Rodrigeuz
Review Source: Latinxs in Kid Lit
Book Author: Julia Alvarez
Anyone who has read Julia Alvarez's adult novels will enjoy the connections made in Before We Were Free to How the Garcia Girls Lost Their Accents and In the Time of the Butterflies. In Before We Were Free, Alvarez explores the Trujillo dictatorship in the Dominican Republic through the eyes of Anita de la Torre, a 12-year-old girl in 1960 whose family slowly reduces in number during the novel. Some, like her cousins, the Garcias, flee the country, while others go missing or are arrested. In the beginning, Anita has little knowledge of politics and the underground movement to assassinate Trujillo. In fact, at the start of the novel, Anita looks to El Jefe's picture at times when she needs strength. She slowly becomes more aware that life under Trujillo has become increasingly dangerous for many, including her own family members who are a part of the movement to kill the dictator. Continue reading.
---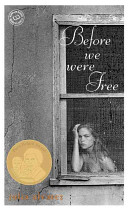 Before We Were Free
by
Julia Alvarez
Published by
Random House Children's Books
on 2004
Genres:
Caribbean
,
Immigration and Emigration
,
World History
Pages:
183
Reading Level:
Grades 6-8
,
High School
ISBN:
9780440237846
Review Source:
Latinx in Kid Lit
Buy at Powell's Books
Also by this author:
Return to Sender
Publisher's Synopsis: Anita de la Torre never questioned her freedom living in the Dominican Republic. But by her 12th birthday in 1960, most of her relatives have emigrated to the United States, her Tío Toni has disappeared without a trace, and the government's secret police terrorize her remaining family because of their suspected opposition of el Trujillo's dictatorship.

Using the strength and courage of her family, Anita must overcome her fears and fly to freedom, leaving all that she once knew behind.

From renowned author Julia Alvarez comes an unforgettable story about adolescence, perseverance, and one girl's struggle to be free.

From the Hardcover edition.