Reviewed by Edith Campbell
Review Source: Cotton Quilts
Book Author: Ibi Zoboi
The stunning endpages of Pride set the story by presenting Zuri and Darius facing each other. Each is looking straight ahead, but neither one is looking at the other. You could say they both appear quite prideful.
Zuri Benitez and her Haitian-Dominican family live in the Bushwick neighborhood of Brooklyn. Zuri has been noticing subtle changes in her Bushwick as stores become more upscale and as store owners are more often white than black. But, Zuri plans for her world to never change. She's a high school junior who plans to go to college and come back home. She doesn't want her home to change.
Zoboi dares to rock Jane Austin's Pride and Prejudice on its head while claiming space for people of color among the most classic of classics. In retelling this story, she maintains the tale of romance, but she empowers a working-class girl with a very limited worldview and whose strong sense of pride in her home provides her with a sense of #blackgirlmagic; it raises her above. Pride is all about the worldview of this young black woman, Zuri.
The center of Zuri's home is the living room/bedroom that she shares with her four sisters. In their apartment building, "(a) narrow door at the end of the hallway opens up to a ladder that leads to the roof. This is our happy place, way above it all. It's also our secret place, because Papi forbids us to go up there for obvious reasons : we might fall to our deaths . . . If Madrina's basement is where the tamoras, los espiritus, and old ancestral memories live, then the roof is where Janae and I share our secrets and plan to travel all over the world, Haiti, and the Dominican Republic being the first stop." (p. 23) Here, Zaboi centers Zuri's world in her home.  Continue reading.
---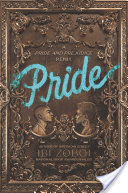 Pride
by
Ibi Zoboi
Published by
HarperCollins
on September 18, 2018
Genres:
Economic Class
,
Haiti
Pages:
304
Reading Level:
High School
ISBN:
9780062564078
Review Source:
Cotton Quilts
Buy at Powell's Books
Also by this author:
American Street
,
American Street
Publisher's Synopsis: Pride and Prejudice gets remixed in this smart, funny, gorgeous retelling of the classic, starring all characters of color, from Ibi Zoboi, National Book Award finalist and author of American Street.

Zuri Benitez has pride. Brooklyn pride, family pride, and pride in her Afro-Latino roots. But pride might not be enough to save her rapidly gentrifying neighborhood from becoming unrecognizable.

When the wealthy Darcy family moves in across the street, Zuri wants nothing to do with their two teenage sons, even as her older sister, Janae, starts to fall for the charming Ainsley. She especially can't stand the judgmental and arrogant Darius. Yet as Zuri and Darius are forced to find common ground, their initial dislike shifts into an unexpected understanding.

But with four wild sisters pulling her in different directions, cute boy Warren vying for her attention, and college applications hovering on the horizon, Zuri fights to find her place in Bushwick's changing landscape, or lose it all.

In a timely update of Jane Austen's Pride and Prejudice, critically acclaimed author Ibi Zoboi skillfully balances cultural identity, class, and gentrification against the heady magic of first love in her vibrant reimagining of this beloved classic.