By Dr. Debbie Reese, tribally enrolled at Nambe Pueblo in northern New Mexico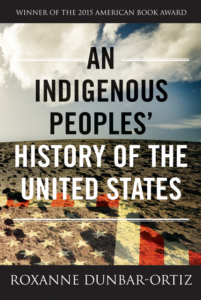 An Indigenous Peoples' History of the United States for Young People is among the hundreds of books that have been challenged and banned in schools in the United States. Today (March 19th, 2022), a letter was submitted to the U.S. Congress. I and several Native writers, including Andrea L. Rogers, Traci Sorell, Brian Young, Kevin Maillard, Tim Tingle, Dawn Quigley, Denise K. Lajimodiere, Kim Rogers, and Cynthia Leitich Smith, signed the letter.
Signed by 1,300 children's and young adult authors, the letter was drafted by Christina Soontornvat. In his opening remarks of the U.S. House Committee hearing on "Students, Parents & Others Testify on Curriculum Censorship," Representative Jamie Raskin read the entire letter. Children's and young adult books expand what is available in curriculum materials and textbooks. Censoring them is a harm to all children.
I offer a special kú'daa (thank you) to Arigon Starr, for including her tribal nation — Kickapoo Tribe of Oklahoma — in her signature (I highlighted it and did a screen capture):

Who we are, as citizens of tribal nations, matters and the books we create for young people matter. They provide our children with mirrors of our experiences as Native people, and they provide non-Native children with windows that accurately bring Native life to them in ways that help them understand the entirety of who we are. 
Continue reading
.