Reviewed by Beverly Slapin
Review Source: De Colores
Book Author: René Colato Laínez
My Shoes and I: Crossing Three Frontiers / Mis Zapatos y Yo: Cruzando Tres Fronteras was originally published in English by Boyds Mills Press in 2010. With English text modified and simplified, and Spanish added for this edition, the story is based on Colato Laínez' own arduous 1,000-mile journey, traveling with his father from El Salvador through Guatemala and Mexico to the US. Together, the boy and his father walk across valleys, climb up mountains, take a two-day bus ride to Mexico City; sleep in an old, dark trailer for a few days—and, finally, swim across the Rio Grande and walk to the border—to reunite with Mamá, who is waiting for them on the other side.
In Colato Laínez's gentle, reassuring story for the youngest readers, a pair of new shoes that Mamá had sent young René remains the literal and visual focus of the journey. The shoes are symbolic of the long, dangerous struggles without actually telling or showing any real danger. As René's shoes, depicted on just about every page, travel with child and father, they deteriorate: they become scuffed and dirty, they develop holes, they overflow with mud, they fill with pebbles, they get soaked in the river. But throughout, the shoes are with him: "Uno, dos, tres…" they still walk everywhere he walks. And finally, father and son "cross the finish line, together."
In contrast to the author's actual situation, the family here are immigrants rather than refugees. This is an important distinction. In the 1980s, thousands of Salvadorans fled here to escape the 12 years of violence in which right-wing government forces, supported by the US, murdered more than 75,000 civilians. Continue reading.
---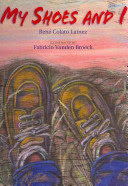 My Shoes and I
by
René Colato Laínez
Published by
Boyds Mills Press
on 2010
Genres:
Immigration and Emigration
Pages:
32
Reading Level:
Grade K
,
Grades 1-2
,
Grades 3-5
ISBN:
9781590783856
Review Source:
De Colores: The Raza Experience in Books for Children
Also by this author:
Mama The Alien/Mama la Extraterrestre
Publisher's Synopsis: As Mario and his Papâa travel from El Salvador to the United States to be reunited with Mamâa, Mario's wonderful new shoes help to distract him from the long and difficult journey.