Reviewed by Wendy Bermudez
Review Source: Independent
Book Author: René Colato Laínez
Mamá the Alien is a humorous story about how one word with two different meanings can be interpreted by a young Latina girl. Sofia only knows one definition for the word alien; one that means a creature from outer space. When Sofia finds her mother's identification card with the word alien written on it, she takes it to mean that her mother is an extraterrestrial. For students acquiring English as a first or second language, this is a case of normal language confusion as the English language has many words with various meanings.
The author uses this book to introduce the concepts of immigration and citizenship to young readers, but it is done in a very simple manner. The mother's path towards citizenship happens overnight; unlike the complex and lengthy process that most immigrants have to endure.
Educators might want to trace the history of the word alien and discuss the words used today to refer to immigrants. Some of these words are derogatory and language impacts the way we think of people.  
Read more about "The Dehumanizing History of Words Used to Describe Immigrants" here.
For more resources on Central America and by Central American authors, visit Teaching Central America.
Wendy Bermudez is a 5th grade bilingual teacher in Arlington, VA.
---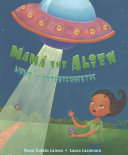 Mama The Alien/Mama la Extraterrestre
by
René Colato Laínez
on 2016
Genres:
Latinx
,
Immigration and Emigration
,
Family
Pages:
32
Reading Level:
Grades 1-2
,
Grades 3-5
ISBN:
9780892392988
Review Source:
Independent
Also by this author:
My Shoes and I
Publisher's Synopsis: Bilingual English/Spanish. In this lighthearted bilingual immigration story, a young girl sees the word alien on her mother's Resident Alien card and concludes that her mother is from another planet until the girl finds out that the word has more than one meaning.