Reviewed by Ariana Hussain
Review Source: Hijabi Librarians
Book Author: Hena Khan
In a novel inspired by Little Women, thirteen-year-old Pakistani American Jameela Mirza, second oldest of four sisters and an aspiring journalist, lives with her family in Atlanta. This Eid holiday has brought changes: their beloved father is missing Eid for the first time ever to look for a new job, and Ali, a (good-looking) nephew of a family friend, arrives from London.
At school, Jameela is named newspaper features editor but is in constant conflict with the editor in chief, who never approves her hard-hitting pitches. When her father takes a job overseas, the family is distraught, and Jameela is determined to write an article that will make him proud. Her assigned piece on Ali goes awry, complicating her feelings for him and her journalistic aspirations. But when her younger sister Bisma is diagnosed with cancer, Jameela must reevaluate her priorities and figure out how she can truly support what matters.
Khan (Amina's Voice, rev. 3/17) tells the story of a modern-day Pakistani American family while retaining the charm, familial warmth, and appeal of Alcott's classic (this novel's first line is, "This is the worst Eid ever!"). Cultural norms about dating, clothing, food, and prayer in the family's Atlanta community and overseas are subtly alluded to, while characters grow and impart valuable lessons without sounding overly didactic.
---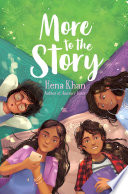 More to the Story
by
Hena Khan
Published by
Simon and Schuster
on September 3, 2019
Genres:
Asian American
Pages:
272
Reading Level:
Grades 3-5
,
Grades 6-8
ISBN:
9781481492119
Review Source:
Hijabi Librarians
Buy at Powell's Books
Also by this author:
Amina's Voice
,
Crescent Moons and Pointed Minarets
Publisher's Synopsis: From the critically acclaimed author of Amina's Voice comes a new story inspired by Louisa May Alcott's beloved classic, Little Women, featuring four sisters from a modern American Muslim family living in Georgia.

When Jameela Mirza is picked to be feature editor of her middle school newspaper, she's one step closer to being an award-winning journalist like her late grandfather. The problem is her editor-in-chief keeps shooting down her article ideas. Jameela's assigned to write about the new boy in school, who has a cool British accent but doesn't share much, and wonders how she'll make his story gripping enough to enter into a national media contest.

Jameela, along with her three sisters, is devastated when their father needs to take a job overseas away from their cozy Georgia home for six months. Missing him makes Jameela determined to write an epic article — one to make her dad extra proud. But when her younger sister gets seriously ill, Jameela's world turns upside down. And as her hunger for fame looks like it might cost her a blossoming friendship, Jameela questions what matters most, and whether she's cut out to be a journalist at all . . . .