Reviewed by CCBC
Review Source: CCBC
Book Author: Hena Khan
Amina is unhappy that her best friend, Soojin, has recently started inviting Emily, a classmate neither of them have ever liked, to spend time with them. At home, Amina's family is getting ready for the visit of Thaya Jaan, her father's older brother, from Pakistan. To impress Thaya Jaan, and support their Imam, Amina's parents tell Amina and her older brother, Mustafa, that they must complete in their mosque's upcoming Quran recitation competition. Mustafa, who wants his parents to let him play high school basketball, agrees willingly. But Amina suffers from serious stage fright–it's why she never tries out for a solo in her middle school choir, despite her talent and love of singing.  ©2017 Cooperative Children's Book Center. Continue reading.
---
Note from Teaching for Change: While this book has received rave reviews for its main plot, we rated it "Recommended with Caveat" because of its uncritical and unnecessary inclusion of the Oregon Trail. In Chapter 3, the story includes a class assignment by Amina's teacher for a "unit on the pioneers of the American West." The teacher tells the students, "You all need to get into character because you're going to race across the country to Oregon by wagon train in teams of four." In Chapter 6, Amina is "curled up with a worn copy of Life on the Oregon Trail. . .  I shudder thinking of the kids my age who walked fifteen miles a day for months, carrying everything they owned with them in their wagons, only to get an awful disease and be buried in shallow graves along the trail or drown in a river crossing." There is not a single reference to the American Indians whose land was being stolen by the "pioneers" nor any attempt to study the impact of "race across the country" on American Indian nations. No one questions why the students were only studying and legitimizing the westward expansion and why the American Indian nations are made invisible. [Read a critique by Bill Bigelow of the Oregon Trail computer game and app.]
---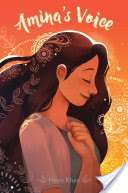 Amina's Voice
by
Hena Khan
Published by
Simon and Schuster
on March 14th 2017
Genres:
Asian American
,
Muslim
,
OwnVoices
,
Teen Years
Pages:
208
Reading Level:
Grades 3-5
,
Grades 6-8
ISBN:
9781481492065
Review Source:
Cooperative Children's Book Center
Also by this author:
Crescent Moons and Pointed Minarets
,
More to the Story
Publisher's Synopsis: "Amina's anxieties are entirely relatable, but it's her sweet-hearted nature that makes her such a winning protagonist." —Entertainment Weekly
A Pakistani-American Muslim girl struggles to stay true to her family's vibrant culture while simultaneously blending in at school after tragedy strikes her community in this sweet and moving middle grade novel from the award-winning author of It's Ramadan, Curious George and Golden Domes and Silver Lanterns.
Amina has never been comfortable in the spotlight. She is happy just hanging out with her best friend, Soojin. Except now that she's in middle school everything feels different. Soojin is suddenly hanging out with Emily, one of the "cool" girls in the class, and even talking about changing her name to something more "American." Does Amina need to start changing too? Or hiding who she is to fit in? While Amina grapples with these questions, she is devastated when her local mosque is vandalized.
Amina's Voice brings to life the joys and challenges of a young Pakistani American and highlights the many ways in which one girl's voice can help bring a diverse community together to love and support each other.