Reviewed by Matthew Smee
Review Source: Independent
Book Author: Ruth Vander Zee
Ruth Vander Zee's Mississippi Morning tells the story of James, a young white boy growing up in rural Mississippi during the Jim Crow era. It's 1933 and James's father (Pa) owns the local hardware store. Pa's store is a popular place, where locals gather to discuss issues facing the town. One of the store's frequenters tells James, "…most of the important decisions in our part of Mississippi are made right here on the porch of your papa's store"; an important allusion to the concentration of power and the dominance of white men.
James is given his first example of this power when his friend Red tells him that the town's Black preacher's house was burned down, not in a freak accident, as James had been told, but by a group of white men upset at the preacher's political activism. Later, Leroy, an African American boy whose family share crops on the property next door, tells James of some of the atrocities committed by the Ku Klux Klan. LeRoy explains, "My Daddy says that we Black folks just have to be careful and mind our business. That's why I don't tell him that I come fishin' with you."
James brings all this up with his father, who quickly shuts it down.
Early one morning, James is out doing chores, when he sees a white-robed person with a gun running down the road. When the Klan member turns into James's driveway and takes off his hood, James is shocked to see that it is his father. The two never speak of the incident again.
After the surprising reveal, the book finishes powerfully, with James thinking, "Somehow everything was different. I still loved my Pa. But I never really looked into his eyes again. And he never really looked into mine."
Mississippi Morning's twisting plot is compelling and hard hitting on racial oppression. The striking illustrations capture the mood and emotion beautifully, which pairs well with some of the more intense moments in the story. The story can serve as a prompt for discussions and futher reading about white supremacy. Mississippi Morning is highly recommended.
---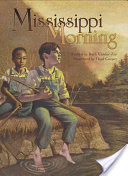 Mississippi Morning
by
Ruth Vander Zee
Illustrator:
Floyd Cooper
Published by
Eerdmans Young Readers
on 2004
Genres:
Racism
Pages:
32
Reading Level:
Grades 3-5
ISBN:
9780802852113
Review Source:
Independent
Publisher's Synopsis: Amidst the economic depression and the racial tension of the 1930s, a boy discovers a horrible secret of his father's involvement in the Ku Klux Klan.