Reviewed by Paige Pagan
Review Source: Teaching for Change
Book Author: Justin A. Reynolds
Miles Morales: Shockwaves is the latest graphic novel in a series about a contemporary Brooklyn student who has superhero adventures as Spiderman. In Shockwaves, Miles helps raise money for relief efforts in Puerto Rico after a series of earthquakes strike and works to uncover how a corporation is stealing the island's natural resources. While Miles is fulfilling his superhero responsibilities, he must also find ways to balance being an involved family member. This action-packed comic explores the complexity of adolescent self-discovery.
While the ongoing effects of United States colonialism in Puerto Rico and the quest for empire are included as parts of the evil plot Miles must fix — it does so without acknowledging that these are major systemic issues that cannot be simply solved, even by superhero efforts. Two female characters have superpowers as well, but unlike Miles, they use their powers for evil, raising the problematic dynamic of female supervillains being defeated by the male superhero. 
Miles constantly ruminates on the question, "What does a superhero do when they're not saving the world?" (p. 10) which causes a crisis of identity and stagnancy for his artwork.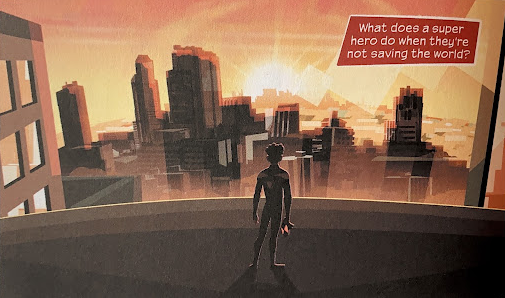 For Miles, his identity as Spiderman is separate and superior from his status as an ordinary teenager, which makes it hard for him to prioritize his concern for his family and culture. Whereas Miles is struggling to put his family first, he finds his opposite in Kyle Granderson, a transfer student to Brooklyn Visions Academy, whose father goes missing. Despite Miles' attempts to persuade Kyle to leave the task of finding Mr. Granderson to the police (and to Spiderman), Kyle lashes back, stating, "I'd risk everything to find my dad" (p. 74). Kyle's persistence in searching for her father is in contrast to Miles' lack of attention to his mother. The character of Kyle serves as a perspective check for Miles as he resolves to balance his superhero and personal lives more effectively. 
Miles discovers that the local millionaire owner of Serval Industries, Harrison Snow, is not only responsible for sequestering Mr. Granderson, the African-American security analyst, but also for extracting terrigen from Puerto Rico that was unearthed after the earthquakes to build an army of super-powered inhumans. Snow is a white businessman, in fact one of the "wealthiest, most powerful people on the planet" (p. 53) and uses his status to avoid the police, allowing him to continue to lay claim to and strip Puerto Rico of its resources, a recurring narrative attached to the island. I'm not suggesting that the graphic novel offer a complete history lesson on colonialism and white supremacy. However, I do think further acknowledgement of why having the Afro-Latinx protagonist directly fight against Snow, whose racial and socio-economic status provide certain privileges, is problematic, yet a common and ongoing dynamic throughout history. Some books that I recommend on colonialism and the quest for empire in Puerto Rico are Caribean Connections: Puerto Rico by Teaching for Change and Side by Side: US Empire, Puerto Rico, and the Roots of American Youth Literature and Culture by Marilisa Jiménez García.
It's worthwhile to note that Snow isn't the sole villain — he's also assisted by his two evil female interns who acquired superpowers through exposure to the terrigen mist. While there are powerful females presented such as Rio Morales and Kyle Granderson, in a narrative on finding identity, it's detrimental to female readers to see female "supers" only written as the villains. Even with these caveats, I recommend this pop culturally relevant graphic novel for middle-grade readers because they may also be struggling to find themselves in this chaotic world much like Miles.
Related Resources
The Afro-Latin@ Reader: History and Culture in the United States edited by Miriam Jimenéz Román and Juan Flores, Duke University Press. Recommended reading on the presence of Afro-Latin@s throughout the Americas.
The De-Colonization of Miles Morales by Vincent Haddad, Los Angeles Review of Books. Recommended reading on the racialization of Miles and his family. 
Paige Pagan is a Social Justice Books Program Specialist at Teaching for Change.
---

Miles Morales: Shock Waves (Graphic Novel)
by
Justin A. Reynolds
Published by
Scholastic
on January 7, 2021
Genres:
Afro-Latino
,
Graphic Novels and Comics
Pages:
128
Reading Level:
Grades 3-5
,
Grades 6-8
ISBN:
9781338648034
Review Source:
Teaching for Change
Publisher's Synopsis: An original middle-grade graphic novel from Graphix starring Brooklyn's Spider-Man, Miles Morales, by bestselling author Justin A. Reynolds and Eisner nominee Pablo Leon!

Miles Morales is a normal kid who happens to juggle school at Brooklyn Visions Academy while swinging through the streets of Brooklyn as Spider-Man. After a disastrous earthquake strikes his mother's birthplace of Puerto Rico, Miles springs into action to help set up a fundraiser for the devastated island. But when a new student's father goes missing, Miles begins to make connections between the disappearance and a giant corporation sponsoring Miles' fundraiser. Who is behind the disappearance, and how does that relate to Spider-Man?A true middle grade graphic novel starring one of Marvel's most popular characters, bestselling author Justin A. Reynolds (Opposite of Always) and Eisner award-nominated artist Pablo Leon (Refugees) create a riveting story that will connect with new and well-versed comics readers alike.