Reviewed by Crystal Brunelle
Review Source: Rich in Color
Book Author: Octavia E. Butler
Kindred is not generally tagged as young adult, but it will likely be a cross-over title and it was one I wanted to read for our focus on women in graphic novels this month. Dana, the main character, has just turned twenty-six when the main action begins so it's not about teens, but Dana's a young woman and is interacting with a variety of young people. It's a book that deals with slavery through the eyes of a relatively contemporary person and it shows aspects of slavery and racism through multiple perspectives. Dana's beliefs about slavery are challenged as she lives among enslaved people. Continue reading.
---
Visit the website for Octavia Butler (June 22, 1947 – February 24, 2006). Additional review of Kindred: A Graphic Novel Adaptation by Laura Jimenez, Book Toss.
---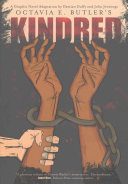 Kindred: A Graphic Novel Adaptation
by
Octavia E. Butler
Illustrator:
John Jennings
Published by
Harry N. Abrams
on January 10th 2017
Genres:
African American
,
Family
,
Girls and Women
,
Graphic Novels and Comics
,
Historical Fiction
,
Racism
,
Science Fiction/Fantasy
,
Slavery
,
U.S. History
Pages:
240
Reading Level:
High School
ISBN:
9781419709470
Review Source:
Rich in Color
Buy at Powell's Books
Publisher's synopsis: New York Times bestseller. Octavia E. Butler's literary science-fiction masterpiece, Kindred, now in graphic novel format. More than 35 years after its release, Kindred continues to draw in new readers with its deep exploration of the violence and loss of humanity caused by slavery in the United States, and its complex and lasting impact on the present day. Adapted by celebrated academics and comics artists Damian Duffy and John Jennings, this graphic novel powerfully renders Butler's mysterious and moving story, which spans racial and gender divides in the antebellum South through the 20th century. Butler's most celebrated, critically acclaimed work tells the story of Dana, a young black woman who is suddenly and inexplicably transported from her home in 1970s California to the pre-Civil War South. As she time-travels between worlds, one in which she is a free woman and one where she is part of her own complicated familial history on a southern plantation, she becomes frighteningly entangled in the lives of Rufus, a conflicted white slaveholder and one of Dana's own ancestors, and the many people who are enslaved by him. Held up as an essential work in feminist, science-fiction, and fantasy genres, and a cornerstone of the Afrofuturism movement, there are over 500,000 copies of Kindred in print. The intersectionality of race, history, and the treatment of women addressed within the original work remain critical topics in contemporary dialogue, both in the classroom and in the public sphere.