Reviewed by Dr. Ed Greene
Book Author: Jyoti Gupta
In 1971, Vivian Church wrote the children's book, Colors Around Me. It provided an eye-opening explanation of the meaning of the words Black, Negro, and Afro-American, while at the same time presenting positive descriptions and illustrations about the shades of color among African Americans and being part of an African American family of many colors.
In the 1990s, the inspirational work of educator, author, and activist for social change, Katie Kissinger, provided children and families an illustrated book describing the essence of one way we are all special and different from one another in her award-winning All the Colors We Are: Todos los colores de nuestra piel/The Story of How We Get Our Skin Color.
As someone with a background in professional preparation in the fields of child development, early learning, and children's media environments, and as a person of color of African descent born in the United States and engaged in anti-bias and equity work since 1974, I have been forever grateful for Vivian Church's and Katie Kissinger's contributions.
Now, in 2019, I am surprised, rejuvenated, encouraged, and grateful to learn about and share Jyoti Gupta's Different Differenter: An Activity Book About Skin Color.
This is a thoughtful, sensitive, and beautifully illustrated publication. It is special because it is a rare publication that lifts up the issue of "colorism" through a variety of developmentally and culturally appropriate experiences and explanations that provide exceptionally important resources for parents, children, and those who work with children and families from a variety of backgrounds.
However, what is truly exceptional and most remarkable about Different Differenter is its subtle yet powerful introduction to the concept of colorism, as well as an exposure to the reality that there are few places in the world where dark skin isn't stigmatized. Rarely have I heard this topic openly and explicitly discussed by individuals from other parts of the world, including India where dark skin has apparently carried a long and intense level of stigma
For me, and for many people whose day-to-day lives have been touched by how we are perceived, defined, and treated by others, socially and legally, skin color has tremendous relevance and familiarity.
It was revelatory to learn of Jyoti Gupta's provocative and sensitive "Activity Book About Skin Color. " The narrative and illustrations build upon her own experiences with color and colorism, as well as her own sensibilities surrounding the caring, parent/child relationship she nurtures and cherishes. It is most notable that it is her son, Abir, whom she credits for providing the authentic lens of young wisdom that created the title for this amazing book, Different and Differenter. Without reservation, I recommend this book.
Reviewed by Dr. Ed Greene, Vice President, Children, Youth and Digital Media Literacy Initiatives, Hispanic Information and Telecommunications Network (HITN)
---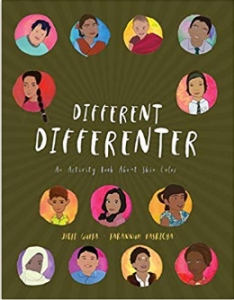 Different Differenter
by
Jyoti Gupta
Published by
Colo(u)Rism Project
on January 15, 2019
Genres:
Racism
Pages:
38
Reading Level:
Grades 1-2
,
Grades 3-5
ISBN:
9781732564404
Review Source:
Independent
Publisher's Synopsis: Different Differenter is an activity book for children that thoughtfully addresses everyday skin color consciousness and bias in a way that's easy to understand.

Children's rich observations and questions about color, caste, and race elicit accurate yet straightforward responses. Jyoti's art-and-craft-based book takes you on a playful and creative discovery to find answers that work for you and your family--while creatively introducing facts of history and 15-plus new words. Make art. Perform a play for the nanas when they're in town. Eat a yummy homemade dessert. Ooh! and aah! about how each member of the family has a different skin color.

It's really a beautifully-illustrated, educational tool that sets the context for hard conversations about self-awareness, color, and identity. Subjects in the book include biology of skin (e.g. melanin); culturally-related aspects (e.g. food); colorism's social impact (e.g. bullying) and solutions (e.g. bystander intervention).

Illustrated by Tarannum Pasricha, Different Differenter reflects the world of the child, in all its diverse exuberance. The book's creators have worked hard to spawn a visual culture that centers cultures and children of color. Do away with the rhetoric, the baggage of what's taboo or political correct! Lead the dialogue with your children and help them embrace the values of social justice and equity.