Reviewed by Deborah Menkart
Review Source: Rethinking Schools
Book Author: Tonya Bolden
This is an extraordinary book of historical fiction about the December 9, 1864 Massacre at Ebenezer Creek, where, on the march to Savannah, thousands of African American families who had just escaped from slavery were left to drown by Sherman's Army. The protagonist of the book is a young girl, Mariah, who flees slavery to join Sherman's March along with her younger brother and a deranged woman from the plantation. Mariah recounts the daily and many forms of torture carried out by plantation owners. Readers also learn how the enslaved resisted, protecting culture and family in any and every way they could. In the epilogue, the author explains that demands by Black ministers after the massacre led to the short-lived land distribution during Reconstruction known as Sherman's Special Field Order No. 15.
---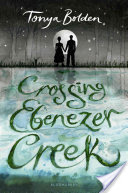 Crossing Ebenezer Creek
by
Tonya Bolden
Published by
Bloomsbury Publishing USA
on May 30th 2017
Genres:
African American
,
People & Places
,
Racism
Pages:
240
Reading Level:
Grades 6-8
,
High School
ISBN:
9781599903194
Review Source:
Rethinking Schools
Also by this author:
How to Build a Museum
,
Cause
,
We Are Not Yet Equal
Publisher's Synopsis: When Mariah and her young brother Zeke are suddenly freed from slavery, they join Sherman's march through Georgia. Mariah wants to believe that the brutalities of slavery are behind them, but even as hope glimmers, there are many hardships yet to come. When she meets a free black named Caleb, Mariah dreams in a way she never dared . . . of a future worth living and the possibility of true love. But even hope comes at a cost, and as the difficult march continues toward the churning waters of Ebenezer Creek, Mariah's dreams are as vulnerable as ever.
In this powerful exploration of a little-known tragedy perfect for fans of Ruta Sepetys, readers will never forget the souls of Ebenezer Creek.