Reviewed by Beverly Slapin
Review Source: De Colores: The Raza Experience in Books for Children
Book Author: Jorge Argueta
On the mostly black-and-white line illustration that wraps around the jacket, an anonymous group of people gathers in the Plaza Divino Salvador del Mundo. Most wear caps and lug drawstring sacks or backpacks or duffel bags or rolled-up sleeping bags, several carry toddlers or babies in slings, and one has a guitar. All of the people are brown and they face the same direction. Except for one man who is turned to the south, waving goodbye, all bodies and eyes are focused north.
In the group's center is a young boy. With one hand, he holds a duffel bag and with the other, he grasps his father's hand. While everyone else is depicted in white and is outlined in black or blue inks, this child wears a red t-shirt and his gaze is directed at the reader. He is the only one depicted with a mouth. His name is Misael Martínez, he is nine years old, he is part of the caravan to the north, and this is his story.
Through narrative verse in a voice that will resonate with young readers, Misael tells them why he and his family are leaving for the north. Continue reading.
---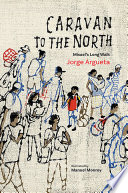 Caravan to the North
by
Jorge Argueta
Published by
Groundwood Books Ltd
on October 1, 2019
Genres:
Bilingual
,
Central America
,
Immigration and Emigration
Pages:
96
Reading Level:
Grades 3-5
,
Grades 6-8
ISBN:
9781773063300
Review Source:
De Colores: The Raza Experience in Books for Children
Also by this author:
Salsa
,
Somos Como Las Nubes / We Are Like the Clouds
,
A Movie in My Pillow
This novel in verse is a powerful first-person account of Misael Martínez, a Salvadoran boy whose family joins the caravan heading north to the United States. We learn all the different reasons why people feel the need to leave — the hope that lies behind their decision, but also the terrible sadness of leaving home. We learn about how far and hard the trip is, but also about the kindness of those along the way.

Finally, once the caravan arrives in Tijuana, Misael and those around him are relieved. They think they have arrived at the goal of the trip — to enter the United States. But then tear gas, hateful demonstrations, force and fear descend on these vulnerable people. The border is closed. The book ends with Misael dreaming of El Salvador.

This beautiful and timely story is written in simple but poetic verse by Jorge Argueta, the award-winning author of Somos como las nubes / We Are Like the Clouds. Award-winning Mexican illustrator Manuel Monroy illuminates Misael's journey. An author's note is included, along with a map showing the caravan's route.