Reviewed by Paige Pagan
Review Source: Teaching for Change
Book Author: Sheetal Sheth
Anjali is the only girl in a boy-dominated tabla class. When she rises to the top, her friend Deepak accuses her of standing out not for her talent, but for being a girl playing a man's instrument. Although Anjali is used to people assuming that she didn't play the tabla, she never felt the pressure to underperform before. When a recital approaches, the tabla instructor announces a contest where the best soloist will receive the opportunity to perform alongside him at an upcoming concert.
Anjali is excited to practice with Deepak, but overhears him planning a practice session with the other boys, purposely excluding her. Not only does Anjali get called a showoff in tabla class, but also in her classroom by Deepak when he declares that he'll be the leader of a project after Anjali raises her hand to volunteer. Overwhelmed, Anjali rushes to the bathroom in tears. There, Tina, a fifth grader, asks her what's wrong and Anjali breaks out in a rant, vowing that she will never play the tabla again. Tina has a simple response for Anjali, "Never dim your light, girl." (p. 20)
With that advice, Anjali remembers that all she needs to do is her best and no one should make her feel bad for being passionate and good at something. At the recital, Anjali reminds herself, "I can do this" (p. 24) and she performs powerfully, winning the contest.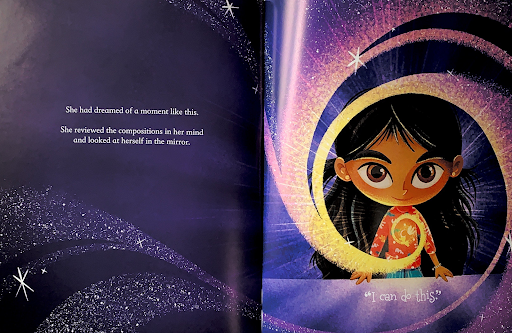 After her performance, Deepak admits that his actions were wrong, motivated by jealousy and that she deserves to be the winner. A young girl in the crowd also goes up to Anjali and says, "Bravo Anjali! I didn't know girls could play tabla," (p. 31) to which Anjali replies, "We can do anything we want, little one." (p. 32) Anjali becomes a trailblazer in her community, proving that females can do anything they set out to and should be confident in their abilities in the face of doubt.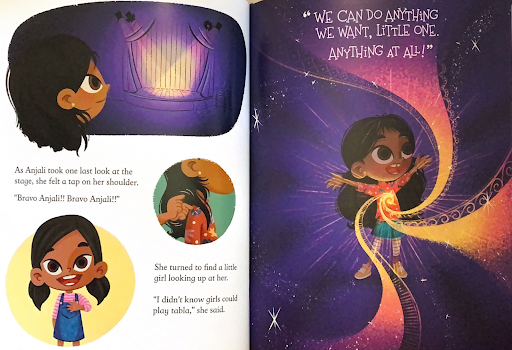 I recommend this book when teaching about female empowerment, including defying gender roles and encouraging girls to resist being relegated to the margins. Another book that may work well if taught alongside Bravo Anjali is Drum Dream Girl: How One Girl's Courage Changed Music. This book is also about a girl who is told that she can't play the drums because it's a male occupation, but she continues to pursue her passion of playing all kinds of drums and paves the way for females in her culture to do so, as well.
Paige Pagan is a Social Justice Books Program Specialist at Teaching for Change.
---

Bravo Anjali!
by
Sheetal Sheth
Published by
MANGO AND MARIGOLD Press
on September 15, 2021
Genres:
Asia
,
Music
Pages:
38
Reading Level:
Grades 3-5
,
Grades 6-8
ISBN:
9781737055013
Review Source:
Teaching for Change
Also by this author:
Always Anjali
Publisher's Synopsis: For Anjali, playing the tabla is something that comes naturally. She loves the feel of the drum beneath her fingers and getting lost in the music. But when a boy in her class gives her a hard time for being better than him, she messes up on purpose. When her teacher announces a contest where the winner will get to perform with him at his next concert, Anjali is distraught. Winning the contest would be a dream for Anjali. But it seems like the better she gets, the meaner some of the kids are.

In this follow up to the award winning Always Anjali, Anjali realizes that she should never let anyone make her feel bad for being good at something. An important story for all children to remember to "never dim their light."