Reviewed by Tayna M. Rivera Rodríguez
Review Source: Teaching for Change
Book Author: Lesléa Newman
Alicia and the Hurricane / Alicia y el huracán: A Story of Puerto Rico / Un cuento de Puerto Rico resembles the story of many little kids in Puerto Rico who experienced Hurricane Maria in 2017. Hurricane Maria is the deadliest natural disaster the island has experienced in a century. This story focuses on the relationship between Alicia and the "coquí" — a little frog endemic to Puerto Rico —  before and throughout the Hurricane.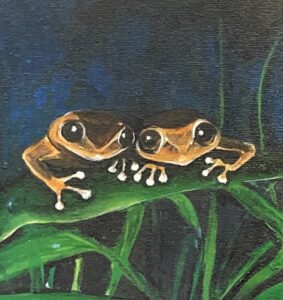 The coquí has been a cultural symbol of Puerto Rico since the time of the native Taíno. Puerto Ricans go to sleep every night knowing that the coquíes "will sing you to sleep," as the story beautifully suggests. When Puerto Ricans want to express their nationality, they say, "Soy de aquí como el coquí" (I'm from here like the coquí).
The combination of the national symbol, the struggle that the Puerto Rican people experienced, and the solidarity that is resembled at the end of the story makes this book significant and meaningful.
The illustrations in the book allow us to locate ourselves in Puerto Rico with great ease, as they highlight the flora and fauna that cover the island. The images of Puerto Rico after Hurricane Maria and the shelters allow us to have an authentic look at the island's conditions during this period. The experience of living in a shelter is very well narrated in the story, where many Puerto Ricans wanted to go back to their homes and take comfort in the sound of the coquí. Alicia's reality was that of many, returning to find her home destroyed, their entire communities destroyed. It is essential to highlight how the story allows us to see how difficult it was for the parents: "Alicia heard the fear in Papi's voice." But it also shows us how they found the strength to comfort their families in such a complex process: "We are safe, and we are together, mi corazón".
The coquís, as they did with Alicia, bring comfort to every Puerto Rican: "That night Alicia fell asleep listening to the sweet song of los coquíes filling her heart with hope." That last sentence transported me to one of the first nights after the Hurricane had passed, where I slept under the stars, hearing the coquíes sing. I remember, like Alicia, feeling for a moment that everything was going to be all right.
The final illustration is extraordinary because it shows us the unity, solidarity, and empathy that embraced the island after the Hurricane.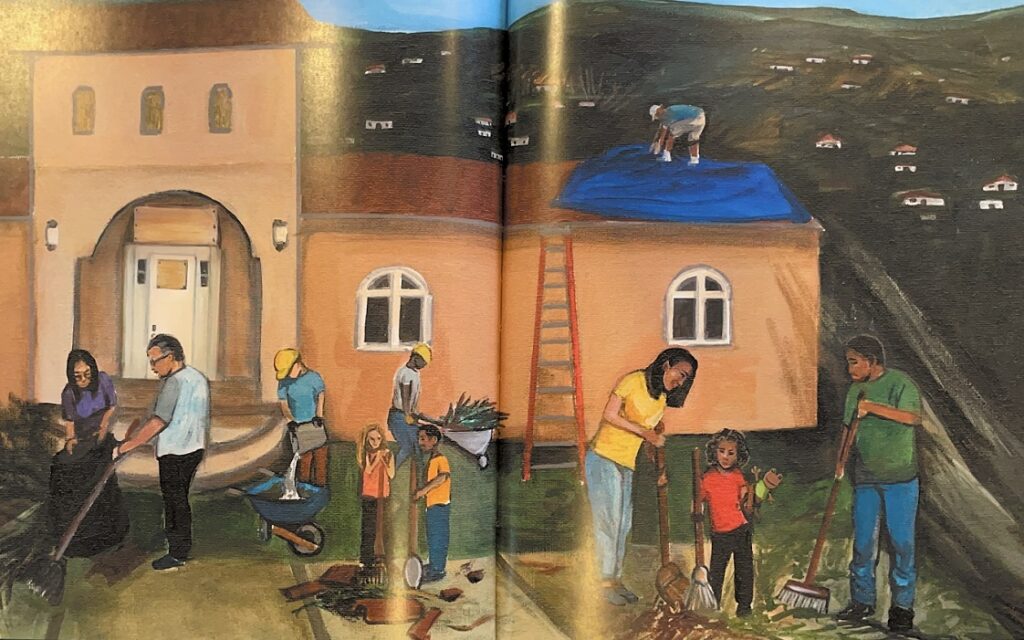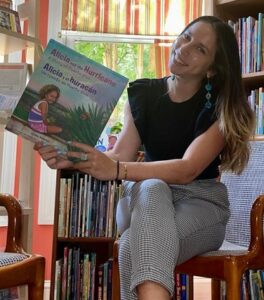 Tayna Mía Rivera Rodríguez was the Summer 2022 Truman Institute Scholar at Teaching for Change. In love with education, social justice, and change, she works with children and adolescents as a teacher in Puerto Rico, where she was born and raised.
Find more books for pre-K–12 on Puerto Rico.
---

Alicia and the Hurricane
by
Lesléa Newman
Published by
Lee & Low Books
on 2022
Genres:
Environment
,
Latinx
,
Nature
,
Puerto Rico
,
Spanish
Pages:
40
Reading Level:
Grades 1-2
,
Grades 3-5
ISBN:
9780892394555
Review Source:
Teaching for Change
Also by this author:
Sparkle Boy
Publisher's Synopsis: Bestselling author Lesléa Newman offers a tender and timely story of a Puerto Rican child facing a hurricane and her concern for the beloved coquíes of her home island.

La autora de bestsellers Lesléa Newman ofrece un tierno y oportuno cuento de una niña puertorriqueña que enfrenta un huracán y su preocupación por los amados coquíes de su isla natal.

After snuggling into bed each night, Alicia listens for the big voices of the tiny coquíes that live all around Puerto Rico and sing her to sleep.Ko-kee, ko-kee, the little frogs call. Ko-kee, ko-kee.

One day a terrible hurricane comes to Puerto Rico, and Alicia and her family take refuge in a shelter. At bedtime Alicia hears grown-ups snoring and babies crying, wind howling and rain pounding. But even though she listens hard, she cannot hear the song of the coquíes. Are the little tree frogs safe? And what will Alicia and her family find at home when the storm is over?

Alicia and the Hurricane is a tender look at the resilience of people, and native creatures, whose lives have been disrupted by a natural disaster. With love and support, family and friends come together to share, rebuild, and fill Alicia's heart with hope.Ko-kee, ko-kee!
Después de acurrucarse en la cama cada noche, Alicia escucha las formidables voces de los diminutos coquíes que viven en todo Puerto Rico y le cantan para que se duerma. Co-quí, co-quí cantan las ranitas. Co-quí, coquí.

Un día un terrible huracán viene a Puerto Rico y Alicia y su familia se cobijan en un refugio. A la hora de dormir, Alicia oye los ronquidos de los adultos y el llanto de los bebés, el aullido del viento y el golpetear de la lluvia. Pero a pesar de que escucha con atención, no puede oír el canto de los coquíes. ¿Estarán a salvo las ranitas? ¿Con qué se encontrarán Alicia y su familia cuando la tormenta haya terminado?

Alicia y el huracán es una mirada sensible a la tenacidad de la gente y otras criaturas de la naturaleza cuyas vidas son afectadas por un desastre natural. Con amor y apoyo, las familias y los amigos se reúnen para compartir, reconstruir y llenar el corazón de Alicia de esperanza. ¡Co-quí, coquí!