Reviewed by Charlie, 17
Review Source: Indigo Bookshelf: Voices of Native Youth
Book Author: James Brandon
I've done some hard reviews/essays. This may be the hardest. I'm not coming from a place of "I'm a critic and I want to cut this author." I'm not settling a score and I don't want to be unfair or hurt anyone. I'm being true to my just turned 17-Black Seminole-African American-pansexual-2SQ/Indigiqueer self. And others like me. That's all I can do.
My librarian texted me this article about ZIGGY, STARDUST AND ME author James Brandon and put the physical copy and eBook on hold for me. She wrote: "I am spotting some issues. You will see more. Read when you're ready, if at all." That was a good warning. But I am so hungry for Two-spirit relationship content in YA, I didn't take a minute.
When I picked up the book at the library, the first thing I did was read the back matter. Those are the author's notes at the back of the book. I never read back matter until I started writing for IB. There were some things there that confirmed the fears I had after reading the SLJ interview. First of all, here's a description of the story from SLJ.
It's 1973. Soul Train and the Watergate hearings play on TV, the Vietnam War continues, and in a small Midwestern town, 16-year-old Jonathan Collins is undergoing painful electric shock treatment as conversion therapy for homosexuality, which is considered a mental illness. He finds comfort in music — Roberta Flack, Pink Floyd, and especially David Bowie's Ziggy Stardust, who becomes an imagined mentor. He also finds Web, a Lakota boy who expands his world and shows him that who you love isn't a sickness.
Some may think I'm paranoid for being nervous about such a direct description. But here's the part that rubbed me: "Web, a Lakota boy who expands his world and shows him that who you love isn't a sickness." Again, you may wonder why that made me hit the brakes. Here's the answer: it planted a worry in my mind that the character was a teacher, guide and healer for a white boy that's been messed up by his own culture. These are stereotypes, and stories like that usually benefit the white character much more than the Native one. Continue reading.
---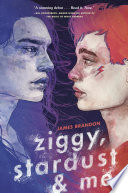 Ziggy, Stardust and Me
by
James Brandon
Published by
Penguin
on 2019
Genres:
American Indians, First Nations, Metis, Inuit
,
LGBTQ
Pages:
368
Reading Level:
Grades 6-8
,
High School
ISBN:
9780525517641
Review Source:
Indigo's Bookshelf: Voices of Native Youth
Publisher's Synopsis: In this tender-hearted debut, set against the tumultuous backdrop of life in 1973, when homosexuality is still considered a mental illness, two boys defy all the odds and fall in love.

The year is 1973. The Watergate hearings are in full swing. The Vietnam War is still raging. And homosexuality is still officially considered a mental illness. In the midst of these trying times is sixteen-year-old Jonathan Collins, a bullied, anxious, asthmatic kid, who aside from an alcoholic father and his sympathetic neighbor and friend Starla, is completely alone. To cope, Jonathan escapes to the safe haven of his imagination, where his hero David Bowie's Ziggy Stardust and dead relatives, including his mother, guide him through the rough terrain of his life. In his alternate reality, Jonathan can be anything: a superhero, an astronaut, Ziggy Stardust, himself, or completely "normal" and not a boy who likes other boys. When he completes his treatments, he will be normal--at least he hopes. But before that can happen, Web stumbles into his life. Web is everything Jonathan wishes he could be: fearless, fearsome and, most importantly, not ashamed of being gay.

Jonathan doesn't want to like brooding Web, who has secrets all his own. Jonathan wants nothing more than to be "fixed" once and for all. But he's drawn to Web anyway. Web is the first person in the real world to see Jonathan completely and think he's perfect. Web is a kind of escape Jonathan has never known. For the first time in his life, he may finally feel free enough to love and accept himself as he is.

A poignant coming-of-age tale, Ziggy, Stardust and Me heralds the arrival of a stunning and important new voice in YA.