Reviewed by: Cecilia Cackley
Review Source: Latinxs in Kid Lit
Book Author: Jeff Anderson
This is a light, fun read for kids who are curious about middle school and looking for something along the same lines as Diary of a Wimpy Kid, but without pictures. Zack is your typical "don't bother me, I'm invisible" kid until a chain of events has him organizing a class fundraiser and trying to solve all the problems that come with it. The bullying part of the story is actually pretty minimal and the side characters fit easily into stock school types, nicknames and all. The supportive adults in the story (particularly Zack's dad) smooth the way when necessary, but the fun part of the book is the building of cooperation between Zack and his classmates and watching him tackle every new disaster that hits. Continue reading.
---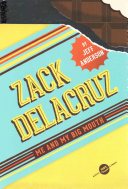 Zack Delacruz: Me and My Big Mouth
by
Jeff Anderson
on 2015
Genres:
Bullying
,
Humor
Pages:
176
Reading Level:
Grades 3-5
,
Grades 6-8
ISBN:
9781454914990
Review Source:
Latinx in Kid Lit
Publisher's Synopsis: Twelve-year-old Zack Delacruz has remained happily unnoticed at his middle school... until now. When he sees his classmate being teased by the school bully, Zack surprises everyone--including himself--by breaking out of his shell and standing up to the tormentor. Somehow this act of bravery gets Zack put in charge of the sixth-grade dance fund raiser with none other than the bully himself!