Review by Anne Clare Le Zotte
Review Source: Disabilities in Kid Lit
Book Author: Brian Selznick
A boy named Ben longs for the father he has never known. A girl named Rose dreams of a mysterious actress whose life she chronicles in a scrapbook. When Ben discovers a puzzling clue in his mother's room, and Rose reads an enticing headline in the newspaper, both children set out alone on desperate quests to New York City to find what they are missing. Continue reading.
---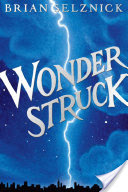 Wonderstruck
by
Brian Selznick
Published by
Scholastic
on September 3rd 2015
Genres:
Art
,
Family
Pages:
656
Reading Level:
Grades 3-5
,
Grades 6-8
ISBN:
9781407166551
Review Source:
Disabilities in Kid Lit
Buy at Powell's Books
Synopsis: Ben's story takes place in 1977 and is told in words. Rose's story in 1927 is told entirely in pictures. Ever since his mother died, Ben feels lost. At home with her father, Rose feels alone. When Ben finds a mysterious clue hidden in his mother's room, and when a tempting opportunity presents itself to Rose, both children risk everything to find what's missing. Rich, complex, affecting and beautiful, WONDERSTRUCK is a staggering achievement from a uniquely gifted artist.