Reviewed by: Rebecca Lehr
Book Author: Carmen Bogan
Rodney is an elementary school student who just can't stay in his seat. Far from engaged in the curriculum, he's distracted by the birds outside the window and the bug in the classroom. His constant longing to be outdoors leads to inattention and class clown antics, which lead to regular reprimands from his teacher. When his class takes a field trip to a park, Rodney is hardly excited; he only knows of one tiny, barren park by his bus stop that has dry grass and a couple of adults who sit on the bench all the time. His mom warns him not to go to that park.
As the bus takes the class "farther and longer than Rodney had ever been," Rodney sees big trucks and people working on a farm. The park turns out to be greater than he could have imagined. He gets the chance to marvel at the view of a river valley from atop a mountain and to behold the tiniest ants in their anthill. Using all his senses, he takes in the wonders of nature great and small. Rodney is excited about learning in the park, and is able to make a connection to the language arts curriculum with which he struggled in the classroom.
Where's Rodney? highlights the importance of outdoors experiences for children whose strengths don't always shine in a traditional classroom setting. Rodney is thrilled to touch tree bark and feel rain on his skin, experiences he could have in the city, but he only knows one park. Without being heavy-handed, the book gives the impression that there is no safe place for him to experience nature at home. The book was published in partnership with Yosemite Conservancy, and the epilogue explains how readers can go about visiting a county, state, or national park. Beautiful illustrations by Coretta Scott King award-winner Floyd Cooper capture the park's majesty and Rodney's joy.
Where's Rodney? would be a great read-aloud in anticipation of an outdoor or nature-themed field trip. It would be especially appropriate for early grades in which state and national science standards emphasize observation and inquiry using the five senses. Since Where's Rodney? is essentially about different learning styles, it would also be a great starting point for teaching kids to recognize their own learning styles or to foster empathy among students for different kinds of learners.
---
Rebecca Lehr teaches art in Spanish at Escuela Key, a two-way immersion public elementary school in Arlington, Virginia.
---
Also see the review of Where's Rodney? on Cooperative Children's Book Center.
---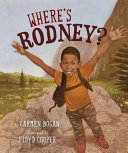 Where's Rodney?
by
Carmen Bogan
Published by
Yosemite Conservancy
on August 7th 2017
Genres:
African American
,
Nature
Pages:
32
Reading Level:
Grade K
,
Grades 1-2
ISBN:
9781930238732
Review Source:
Independent
Buy at Powell's Books
Publisher's Synopsis: A Junior Library Guild Selection. Rodney is that kid who just can't sit still. He's inside, but he wants to be outside. Outside is where Rodney always wants to be. Between school and home, there is a park. He knows all about that park. It's that triangle-shaped place with the yellow grass and two benches where grown-ups sit around all day. Besides, his momma said to stay away from that park. When Rodney finally gets a chance to go to a real park, with plenty of room to run and climb and shout and to just be himself, he will never be the same.