Reviewed by Derrick Weston Brown
Review Source: Teaching for Change
Book Author: Laban Carrick Hill
In most children's books about the history of Hip-Hop, there's often one figure who has continuously been relegated to the background, even though he's the architect of the sound from which Hip-Hop was born. Clive Campbell, also known as DJ Kool Herc, finally gets his time in the spotlight in Laban Carrick Hill's children's book, When the Beat Was Born: DJ Kool Herc and the Creation of Hip Hop.
Going back to Kool Herc's childhood on Somerset Lane in Kingston, Jamaica and then tracing his eventual immigration to the South Bronx in his teens, Hill pays homage to the Caribbean origins and style that influenced Herc's showmanship and hungry ear as a rising DJ; likewise, illustrator Theodore Taylor III's colorful but not cartoonish pictures, give us a story that's part history lesson and part warm earth tone landscape, capturing the wildness and the warmth of a culture that flourished in project parks and community recreation centers.
Without being too scholarly or too basic, Hill's pacing and confident storytelling feel like the coolest of subtle head nods to a fly, Hip Hop breakbeat. He acknowledges that regular young guys and girls who had come to party were actually the originators of the dances and lyrical wizardry that would eventually change the world.  Although Hill gives ample time to acknowledge three of the most basic and well known elements of Hip Hop – deejaying, emceeing, and breaking – he leaves out the fourth element, graffiti, and focuses on an often ignored but very present fifth element of Hip Hop, the gangs.
Hill wisely shows how Hip Hop not only brought opposing gangs together, but also created an atmosphere of peace that eventually transformed these same gangs into famous Hip Hop crews. If you wish to give children a real Hip Hop history lesson, this book is a refreshing and well-schooled voice to add to the call and response of children's Hip Hop literature for the young and curious.
---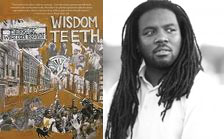 Derrick Weston Brown holds an MFA in creative writing from American University. He has studied poetry under Dr. Tony Medina at Howard University and Cornelius Eady at American University. He is a graduate of the Cave Canem summer workshop for Black poets and the VONA summer workshop. His work has appeared in such literary journals as Warpland, Mythium, Ginsoko, Drum Voices, The Columbia Poetry Review, and the online journals Beltway Poetry Quarterly, Howard University's Amistad, LocusPoint, and MiPOesias. Published by the Busboys and Poets imprint of PM Press, his first book of poetry is Wisdom Teeth.
---


When the Beat Was Born
by
Laban Carrick Hill
Illustrator:
Theodore Taylor
Published by
Macmillan
on August 27th 2013
Genres:
Biography and Autobiography
,
Music
Pages:
32
ISBN:
9781596435407
Review Source:
Teaching for Change
Publisher's Synopsis: A John Steptoe New Talent Award Winner

Before there was hip hop, there was DJ Kool Herc.

On a hot day at the end of summer in 1973 Cindy Campbell threw a back-to-school party at a park in the South Bronx. Her brother, Clive Campbell, spun the records. He had a new way of playing the music to make the breaks—the musical interludes between verses—longer for dancing. He called himself DJ Kool Herc and this is When the Beat Was Born. From his childhood in Jamaica to his youth in the Bronx, Laban Carrick Hill's book tells how Kool Herc came to be a DJ, how kids in gangs stopped fighting in order to breakdance, and how the music he invented went on to define a culture and transform the world.