Reviewed by Jazelle Hunt
Review Source: Teaching for Change
Book Author: Renée Watson
With Ways to Make Sunshine, Newbery Honor and Coretta Scott King Award-winning author Renée Watson brings us a confident, bright, aspiring chef named Ryan Hart, an African American girl "with a name that a lot of boys have." When we meet Ryan she is in the fourth grade and lives with her mother, father, and older brother in Portland, Oregon.
Watson does a great job with Ryan's voice, so we learn a lot about Ryan in her own words. She's not exactly straight-laced — we see her disobey her mother's orders, gossip about another girl in solidarity with her best friend, and play a retaliatory prank on her brother without remorse. Ryan also doesn't consider herself a star student. Watson doesn't write any of this as character flaws or heavy-handed hardships. In fact, Ryan is clearly someone with strong character; we see her stand up for herself often, and she aspires to become a Rose Festival Princess in the city parade so she can tell the mayor to start a program serving "gourmet meals for [the hungry] . . . . Because everyone deserves to have something in their bellies other than not-that-hot soup and rock-hard bread." Ryan's family and friends celebrate and nurture her strengths — her helpfulness, problem-solving skills, and especially her flair for cooking.
Put simply, Ryan is a girl-next-door, in the vein of Ramona Quimby and Pippi Longstocking. It is important for young readers to meet, relate to, and enjoy reading about an ordinary Black girl. There are a lot of options for young people to read about kids who are mostly mischievous, or meek, or super-heroic, or extra-smart. And for Black children in particular, there are a lot of options that seem aimed at "defying stereotypes," encouraging young Black readers to shun sports and entertainment in favor of academics, or behave quietly and modestly in public. Ways to Make Sunshine is not that. It's clear that Ryan and her brother are encouraged to be their full selves, share their true thoughts, and explore all interests they have, as long as they do so in good faith.
Still, the story shines best when we see her navigate some of the most classic experiences of African American childhood — the pressure of the Easter Sunday speech/scripture recital, the ongoing lesson of taking pride in your name, and of course (for Black girls in particular), the tightrope of straightened hair and what it means to be beautiful.
Ryan's Blackness is an important part of her identity, but it is only a part. These moments shine so well because they're one of many windows into Ryan's life and what makes her who she is. For example, I've never been to Portland, but Watson shows us her hometown with great details such as Tillamook Marionberry Pie ice cream and bird watching on the Columbia River. Ryan goes through relatable happenings, too, alongside these special details, such as moving to a new neighborhood, visits with friends and family, a school talent show, and the hijinks that happen between siblings. Ryan, her community, and everyone in it ring true. When we call for representation in a literary landscape that excludes or caricatures our rich and varied experiences, this balance and simple realism is what we want to see.
The illustrations from Nina Mata bring it all home. Through Mata's pencil strokes, Watson's cast of different shades, sizes, ages, and hair textures become vivid, and Ryan's concerns are paramount as we see the world from her point of view.
Ways to Make Sunshine is an excellent start to a new middle-grades series, and readers will undoubtedly be excited to keep up with Ryan as she enters middle school. And with a cliffhanger right at the end, readers will want to know what happens next.
---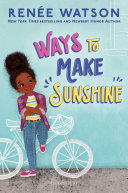 Ways to Make Sunshine
by
Renée Watson
Published by
Bloomsbury USA
on April 28, 2020
Genres:
African American
Pages:
192
Reading Level:
Grades 3-5
,
Grades 6-8
ISBN:
9781547600564
Review Source:
Teaching for Change
Buy at Powell's Books
Also by this author:
Piecing Me Together
Publisher's Synopsis: From Newbery Honor and Coretta Scott King Author Award winner Renée Watson comes the first book in a young middle grade series about Ryan Hart, a girl who is pure spirit, kindness, and sunshine.

Ryan Hart has a lot on her mind — school, self-image, and especially family. Her dad finally has a new job, but money is tight. That means some changes, like selling their second car and moving into a new (old) house. But Ryan is a girl who knows how to make sunshine out of setbacks. As her brother says when he raps about her, She's got the talent that matters most: it's a talent that can't be seen, she's nice, not mean!

Ryan is all about trying to see the best in people, to be a good daughter, a good sister, a good friend. But even if her life isn't everything she would wish for, when her big brother is infuriating, her parents don't quite understand, and the unexpected happens, she always finds a way forward, with grace and wit. And plenty of sunshine.
Acclaimed author Renée Watson writes her own version of Ramona Quimby, one starring a Black girl and her family, in this start to a charming new series.